Curtis got a muscle-up!!! (More on that in a bit)
5 Rounds for time:
15 Power Snatches (95#/65#)
400m Run
Results
View this photo
View this photo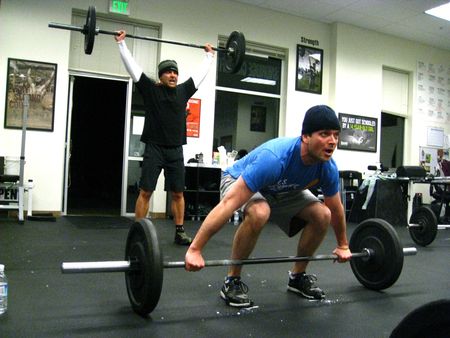 Holy accomplishment Batman! Today was a day of PR's and 1st's! Curtis achieved his first muscle-up through sheer force of will and not quitting. He has been practicing form and progressions and finally some things clicked and all that work paid off. This is the fifth person I have been lucky enough to watch and cheer them get their first muscle up in person (Gregg, Derek, Kelly, Eric and now Curtis). The muscle-up is not an easy thing to learn or perform. Except maybe to a gymnast for whom it's a simple, "no skill" exercise. To a CrossFitter however it's different, it's a pinnacle movement. Like that first pull-up, it is an ACCOMPLISHMENT! You have to not only have strong pull-ups but you also need ring dips with full depth. You need a powerful grip. You need to have strong stabilizer muscles and a strong core. It requires strength, flexibility, power, speed, agility and coordination. Did I just say flexibility in relation to Curtis?! For those who want to achieve it do not rush it. Work on the progressions, practice pull-ups and ring dips. Be patient.
Congrats also goes to Ryan and Zach for hitting PR's on their max height box jump. Double-under PR's were set by Ryan, Zach, and Travis that I know of. If I missed anyone please post to comments.
The other 1st for the gym was we had visitors from the lululemon athletica store in Bellevue drop in for the late WOD. Welcome to Courtney, Jess, McKenzie and Steven who all came in and demonstrated outstanding athleticism and intensity. Clearly a group who have been around a CF gym, they powered their way through with great form and speed. They also stuck around after to cheer on the second wave and got to know several of you. Thanks for coming in and feel free to drop in anytime!
Now for the video moment that is simply one hell of an accomplishment. CONGRATS CURTIS!
Notes:
Don't forget today is day 3 in the push-up challenge so make sure you knock out 15 of them. Tomorrow is 20.
Watch this amazing 370# deadlift by Laura DeMarco (CF Games competitor last year). She is lifting some serious weight! [wmv] [mov]