Main Class:
Teams of 2 Complete As Many Rounds As Possible in 18 Minutes of:
5 Deadlifts (225#/155#)
7 Box Jumps (24″/20″) 
100m Sprint
Partner up and go "head to head" at power cleans to complete the most reps after 3 rounds. Run fast so you can out-do your partner.
* Only one person working at a time, alternate after the sprint. (wait for your partner to return from the run to deadlift)
Advanced RX Class:
Skills WOD:
Muscle-up Practice for 10 minutes "or"
Max Reps MU in 4 minutes
Conditioning WOD:
5 Rounds for time:
400m Run
7 Deadlifts (275#/185#)
7 Box Jumps (30″/24″)
Results 
13.1 Results 

View this photo
View this photo
The 1st week of the Open comes to a close tomorrow and the anticipation will instantly begin for 13.2. While waiting for the next Open WOD announcement most CF'ers will start leaderboarding to see who is ranked where while combing the Facebooks and Interwebs for any poorly filmed iPhone clip of someone doing snatches and burpees to an insanely high number. 
While you are doing that don't forget to SUBMIT your score to the Games site no later than 5pm Sunday. Do NOT wait! Get your score in so you are not eliminated.
More importantly Saturday saw Debra get her first muscle-up to a ton of cheers! The practice and hard work paid off. The pictures speak for themselves. Now it's time to get those dialed in and added to your arsenal.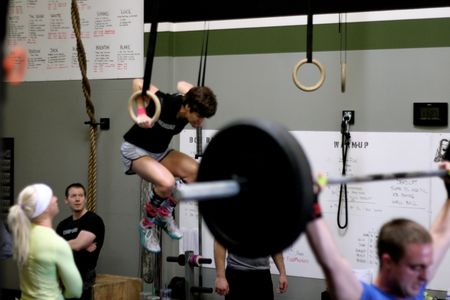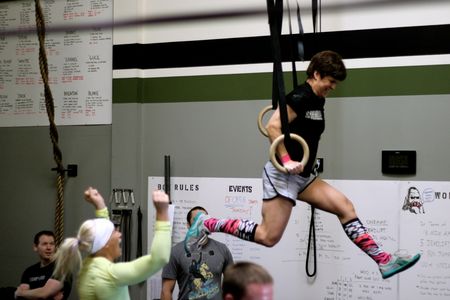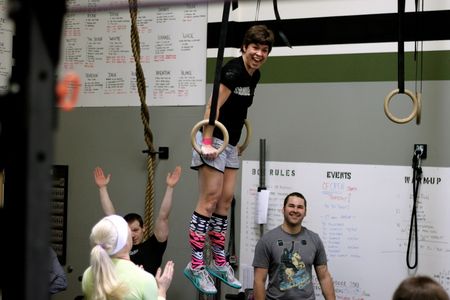 "CrossFit Games Behind the Scenes: Saturday and Sunday" CrossFit Journal video [wmv] [mov] [HD mov]