Affiliate Team WOD:
As a Team of Two, complete 10 rounds each for time:
1 Power Clean (135#/95#)
3 Hang Squat Clean
2 Push Press or Push Jerk
30m Sprint
* Results to be posted (forgot to take picture)
New Year's Eve WOD:
As a Team of Two, complete one round for tIme:
800m Run together 
Then alternate with each partner completing:
31 Kettlebell Swing (135#/95#)
31 Wallball (20#/14#)
31 AbMat Sit-up
31 Dumbbell Push Press (35#/20#)
31 Dumbbell Walking Lunges (35#/20#)
End with 800m Run together 
Results
Day 37 of the Burpee Challenge. It just keeps going and going and going…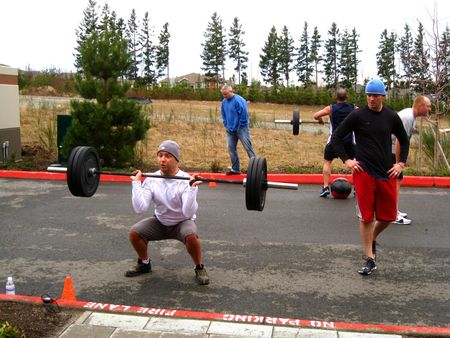 Happy New Year's! Stay safe and be responsible tonight! Tomorrow the gym is closed but Saturday will be the same schedule as today: 9am Affiliate Team training, 10am Class, 11am Class. First 8 to post on the blog (Bonnie is #1 so far) get a spot for 10am. 
Notes:
Our fearless Pat is trying out for Survivor this Saturday at the Snoqualmie Casino! If you can make it after the WOD on Saturday then head over to show your support and tell the casting folks he is a no brainer. I picture him on an island happily doing 100 burpees a day while winning all the challenges and introducing CrossFit at tribal councils!
Here's a video that is flat out amazing for the time of this workout. "Angie" is a benchmark of 100 each of pull-ups, push-ups, sit-ups and squats. It is hard. A sub 20 minute time is great. Watch Chris Spealler of CrossFit Park City record one of the fastest times I have ever heard for this. Simply astounding.