For Time:
12 Deadlift (275#/165#)
40 Wall Balls (20#/10# to 10′ target)
9 Deadlift 
30 Wall Balls  
6 Deadlift
20 Wall Balls 
3 Deadlift 
10 Wall Balls  
Results  
View this photo
View this photo
Compare to 2010 CF Games Alabama (incl. TN/MS) Sectional Results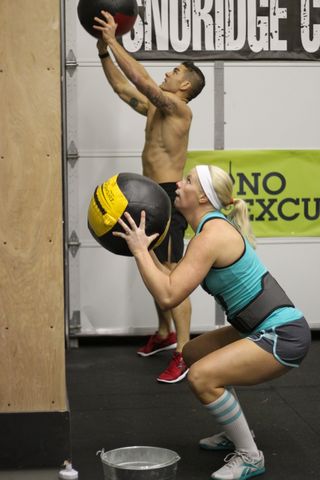 This is a WOD from the Sectional Qualifiers in the 2010 CF Games. Deadlift weight used for women was lighter than normal for the scaling equivalent to 275# for men (it is typically 185#). The other twist was a 10 ft. wall ball throw for both men and women (with a lighter med ball for women). This almost felt like "Karen" when you were done.
Congrats to Eric H. for hitting his 100th WOD milestone today! His wife Tricia is right around the corner from her 100th too! You earned the right to wear your 100 WOD shirts. For those of you who ordered your 250 WOD T's they are being printed now. Stay tuned.
Day 7 of the Burpee Challenge!
Video:
Yet another reason why the fashion industry confirms to me they are a bunch of idiots: Plus Sized
A CrossFit Dramedy? WOD Diaries Trailer
Read: Know that you will get plenty of this here: 
Tough Love
: CrossFit Lisbeth