"Stop the Slop Challenge": Who's IN?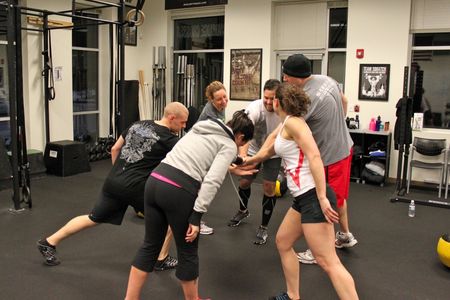 It's time. Actually it's overdue. We are kicking off our Nutrition and Performance Challenge this Saturday on Jan. 8. It will run 6 weeks long until Feb. 19. This is not only a nutrition challenge but also a performance challenge. This is open to everyone in the box and we highly encourage you to participate.
Nutrition is the foundation of a solid fitness program and overall good health. You put the effort into your workout, put that into what you eat and watch how dramatic the results can be. While we encourage you to try a strict Paleo or Whole30 approach (as it will have the best results), we also realize some may not quite be there. For those "kinda motivated" individuals we want you to participate and still emphasize good choices and real food so you can see and feel the difference. You have the rest of the week to get ready or even get started! Think Paleo and not "Faileo"! (borrowed that term from Imperial CF)
A word on the Performance Challenge. The emphasis of "Stop the Slop" goes beyond what we choose to eat. It also encompasses how we workout and how we recover. 1st: Stop looking at the clock! Slow it down and set your feet, your back and your hands to do what you have been trained to do correctly. 2nd: Forget what the person next to you can lift and focus on what you can lift correctly. 3rd: Recover the right way. In addition to proper nutrition, stretch and get more sleep.
From little to no sleep or crappy reps with bad form, it's all slop that we can do without. So for the next 6 weeks we will be even more vigilant as your coaches on demanding good reps and technique. This is for the collective good! When you are working out however, police yourself. When you short a squat, snag a double-under, half-ass a wall ball or push-up, don't quite get your chin over that bar, or do the box jump "tango toe tap on the edge" thing, don't count it. Do it over. Keeping those hips closed on an overhead squat? Push press look like you have been hanging out at the globo-gym again with the meatheads? How about the rounded back deadlift or reverse curl clean? Slow it down and do it right. That is why we train. It will pay off immensely. It will make your fitter, more efficient, and overall drive better results. Which is what we all want right? 
Details below:
Runs from Sat. 1/8 – Sat. 2/19 (kick-off this Sat. at 9am at the box)
Buy-In is $25 per person (a portion goes to the Nutrition Guide and the rest for the winner's prize cashola)
Weigh-in & Waist Measurement before and end of challenge required; weekly weigh-in strongly encouraged
Pictures (men: no shirt/shorts, women: bathing suit or sports bra/shorts) of front, side and back view required – not to be published, only coaches will view)
Nutrition logs required and to be turned in at the end of each week (either manual or electronic – recommend Beyondthewhiteboard.com)
Winners will be crowned for Nutrition Challenge and Performance Challenge (details to be covered Saturday)

Nutrition winner will be the person with highest % weight loss overall
Performance winner will be the person with the highest % time improved overall (scaling will remain the same for test/re-test unless the athlete chooses to move from scaled to RX – this would be a "gamble")

Prize cash money for top Nutrition and Performance winners, Cool swag and CrossFit treasure for runners-up
Benchmark Performance Test WOD "Jackie": You will be paired up with another athlete to serve as your "judge/counter" to ensure everyone gets the most out of their "sweat equity"
Kick-off Schedule:
KICK OFF on Saturday 1/8:

9am: 1 hour Discussion/Q & A and Challenge Overview with your coaches at the box
10:15am: Benchmark Performance Test WOD: "Jackie" 
Weigh-In/Measurement
Buy-in will include a Whole9/SRCF Nutrition Guide and Whole30 Program handout (Comprehensive nutrition guide with practical info on how to implement, shop, prepare, and maintain a Paleo diet as well as a "how to" Whole 30 manual)

Monday 1/10:

Benchmark Performance Test WOD Make-up day: During normal class times
Matt is fired up for the Stop the Slop Challenge!