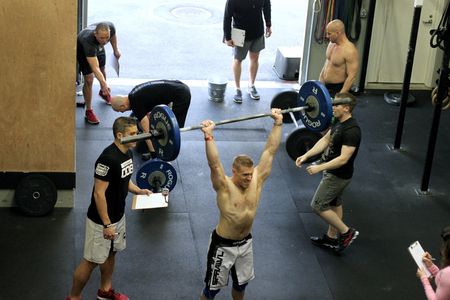 The Open is officially now closed. Everyone's score is in the books and here are some results for SRCF.
Our gym overall finished at 65th in the region out of 168 teams
Team Squatch had 36 people sign up and compete (22 men and 14 women)
We had 6 men and 6 women who posted scores that officially "counted" over the course of all 5 Open WOD's (Top 3 men and women each week count towards your team score)
Our best placing WOD was 13.3 with "Karen", DU's and MU's
Our worst placing WOD was 13.2 with stupid step-ups, PVC deadlifts and some shoulder to overheads
Highest ranking male athlete in the gym is Coach Mark with a ranking of 58th out of 2900 plus athletes in our region
Highest ranking female athlete in the gym is Meghann with a ranking of 198th out of 2100 plus athletes
Highest ranking "veteran" male athlete in the gym is Don Cole at 62nd in the Masters 40-44 NW Region and 861st Worldwide out of 5400 plus athletes in the new 40-44 masters category
Highest ranking "seasoned" female athlete in the gym is Coach Michelle at 38th in the Masters 40-44 NW Region and 471st Worldwide out of 3200 plus athletes in the new 40-44 masters category
The top 48 male and female athletes in each region move on to the Regionals competitions. The top 30 teams in each region move on to Regionals. For all Masters only the top 20 male and female worldwide move on directly to the CrossFit Games. There are no Regionals for the Masters categories.
While Coach Mark did not assure himself a spot to Regionals, there is a possibility that he may receive an invite to compete at Regionals as this year CFHQ has announced that at their discretion they may invite athletes to fill spots at the individual level that are vacated by athletes who choose to compete with their team and not go solo (if they qualified). The number of spots is in question. Cross your fingers for Mark! Either way it goes we are proud of him.
This year was the biggest year yet of the Open. Over 140,000 people signed up and started in 13.1. We saw a new masters age group (40-44) get added while the Regional spots were narrowed to 48 (previously top 60 moved on). What will we see next year? Who knows, one thing is for sure, the pool of people will be even bigger.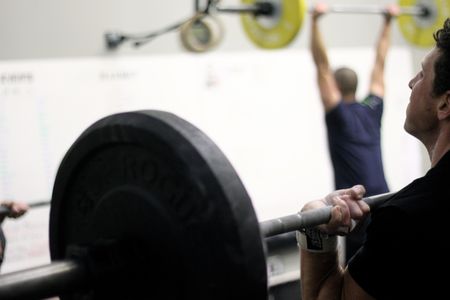 My thoughts on this year's competition:
Sure there are things that need to be fixed. From scoring to more creative workouts to ensuring standards are met worldwide and judging is consistent. All of those things need to be tightened up. That said, it is truly the ONLY sport (yes exercising is now a legitimate sport) that has a competition that really has no barrier to entry for any one of us. Think about it for a moment. What other sport can you compete with others around the world in like this? You can play a round of golf, a pickup game of basketball or soccer, run a race, do a tri, etc. but can you rank yourself against all of those who play those sports in the world?! No. That alone is cool. Besides that what competition have you done that pushes community, friendship, and shared hardship like the CrossFit Games? What sport can you really identify with what the best are able to accomplish by simply knowing what they must be going through as they complete the same thing you attempted. 
Watching our gym this year compete in our third Open was overall a blast. Seeing people sign up and push themselves and PR each week is so gratifying. Today as I judged Mark fight hard to PR his last Open WOD to move up in the standings I looked out to start the timer and saw over 20 people sitting there who had come together on a Sunday afternoon to cheer him on. It was a cool site from my side of the gym. I literally could feel the energy of all of you as you screamed and encouraged him to keep moving. And I wasn't even working out. I imagine that was even more powerful for Mark. This type of thing happened every week!
This year I didn't get to compete. I broke my hand in late December and derailed my training and goals I had set for this year's Open. Initially crushed and honestly depressed for a good month (while I hopefully did well at hiding it), I came to discover through my time spent healing and modifying/scaling my training the things that I really love about CrossFit. The energy of pushing yourself each workout no matter what the combination of movements are is real. The feeling of accomplishment you immediately feel after each WOD is real. The fear and butterflies you get before working out is real. The thrill of trying to set a PR or chase someone (or yourself) down in a workout is real. The joy of sharing in that with so many friends in each class as you hear "3-2-1 Go" and yell "time" is REAL. I had become very self absorbed this past year in my own training that I forgot the basics. I forgot to jump into a class. I forgot to worry less about the weight on the bar or the time on the clock and just enjoy the workout. I do this for my health, my family and for FUN. If I am not having fun no matter how hard the workout is something is wrong. I do this to challenge myself and hit new goals, both big and small. My list of goals is endless and through CrossFit I am able to achieve those and learn about myself constantly. This year I am hungry to get back to where I want to be and push to make the top 100 in my age bracket worldwide in 2014. Who knows if it will happen but I am damn sure going to try and have FUN doing it.
For all of you who were able to complete the Open my hat is off to you. We saw new friendly rivalries begin, teams form and people take themselves to the next level that I cannot wait to see what happens this year. My sincere hope is that every one of you uses the Open to further refine your goals for the coming year and to take your training, nutrition and recovery a step farther. Not because you think you will make the Games but because you are doing this to celebrate living. I know I will.
Having fun: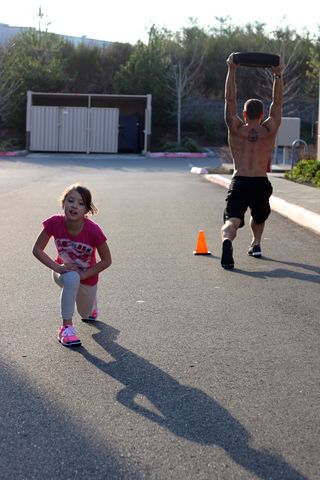 Week Five In The Books games.crossfit.com