For Time:
2000 meter Row 
Results
Eric and Kamran with some CrossFit Maui style: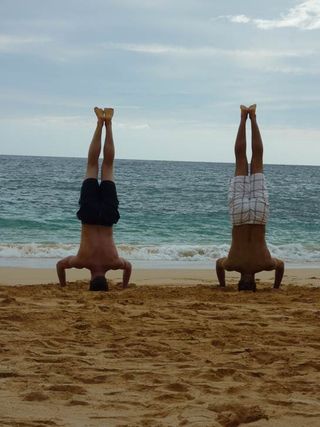 We just completed 5 days of main site WOD's. All hard, some heavy, some new, some old. I picked this mix of programming to cover basic bodyweight movements, an Oly lift or two, a benchmark, a cardiorespiratory endurance test, and some strength/skill training. Often the WOD's on the main site have heavier loads, advanced skills, longer time or larger task dependent variables. Usually the combination of movements are brutal and surprisingly effective. Many times the majority of CrossFitters should or do scale them. Not really different from what we normally do, but choosing workouts entirely from main page programming allowed everyone to get a taste of how following the main site can feel. We will now return to your regularly scheduled programming…
Notes:
Read: "Going RX'd Doesn't Mean Sh**!" by CrossFit Mission Gorge 
Congrats to all who ran in either the Turkey Trot or the Pineapple Classic today. I know there were several who ran. Amanda shared that she PR'd her 5k time by 2 plus minutes!
Do you eat chicken nuggets? After seeing this story will you continue to? Just what is mechanically separated meat and why in the name of Paleo would we eat it?