For Time:
Row 2000m
Results
Quote of the Day: 
After Curtis used "The Awesome" bar to do some cleans: "The cool just fell right off of it." ~ Amanda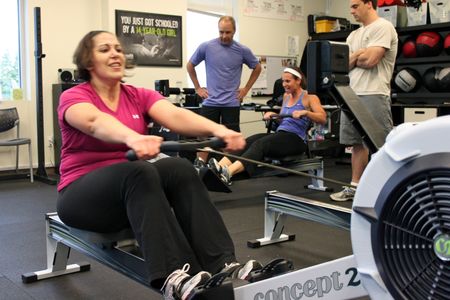 2k = torture. This rowing benchmark is torture. Battery acid flowing through your veins, arms and legs on fire, back and forearms cramping, heart exploding kind of torture. Falling off the rower, almost meeting pukie, and wobbly legs are all side effects of this lovely time on the erg. It is also an outstanding total body workout that demands nothing more than your all out effort. When you are done you will know if you had any left to give. Oh and one more thing; congrats to all of you who PR'd today!
Inflexibility Twin Powers Activate!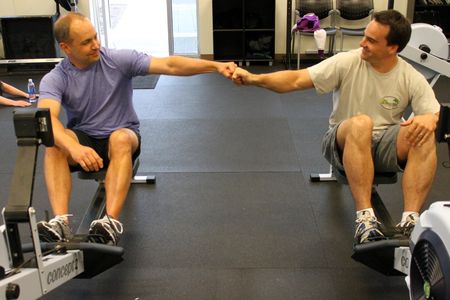 Read Women's Epic Matchup 2: Annie and Lindsey. These are just two of the amazing female athletes that are going to rock the Games!
Notes:
Saturday Schedule:
9am: Fall City 5k/10k Fun Run. Good luck to our fellow Squatches who are running it!
10am: We will have one Saturday WOD (no 11am so we can prep for the workshop). Come on in and we will accommodate!
1pm – 5pm: Whole 9 Nutrition Workshop update! We have around 25 people who have said yes, and several have already paid. Please prepay on the Whole 9 site by using the PayPal button. 
Whole 9 Nutrition Workshop Details:
Date: Saturday 6/19
Time: 1pm to 5pm (4 hour workshop – no kiddos)
Cost is $75 per person
RSVP via email or blog
Learn what you should eat, how you should eat, when you should eat, and why you should eat optimally for your health and fitness
5pm: BBQ (or when the nutrition workshop ends)
Paleo BBQ after open to all (Kids welcome, bring a Paleo friendly dish if you can)
C2 Rower Fish Tournament – Who will earn the title "Rowkilla"?