For Time:
2000m Row
Immediately after complete:
100 AbMat Sit-ups for time
Results
Stroke!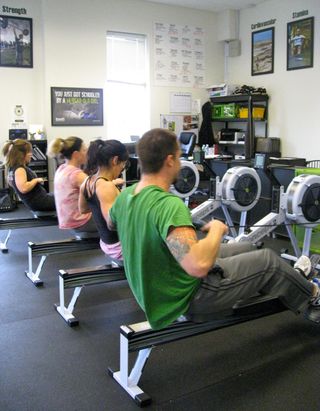 Normally I don't write about a specific performance but I want to highlight Pat's insane 2k row time of 6:53 today. For those who have rowed you have a pretty good idea what type of colossal effort and pace that requires. For those who don't I can tell you it is flat out HARD. 2000m is one of the common race distances used in competitions to determine world champions. To give you an idea of how Pat's time of 6:53 compares in 2000m Indoor world rankings, consider that the fastest two women in the world rowed the following: Heavyweight – 6:28, Lightweight – 6:54. Both rowers are in the age group of 19-29. Compared to men age 40-49 (Pat's age bracket): Heavyweight – 5:57, Lightweight – 6:18. Had Pat competed at the 2009 British Indoor Rowing Championships last year he would have placed 17th in his age group. Amazing!
Notes:
Steven and Jackie dropped in for a WOD today from lululemon. Steven was voted as educator of the month at the Bellevue Square store and gets to put up a poster in the store of some of his favorite exercise related activities. Congrats Steven! Check out his cool poster and what he put down for his "favorite way to sweat". 
Steven's board – the honor is ours:
Trivia question: How many Chinese Irish Americans do you know?
See almost all of you bright and early for the St. Patty's Day Dash! The Compound Crew is joining us and we plan to have a great group of SnoRidge leprechauns running for time for this annual 5k race in Snoqualmie Ridge. If you haven't registered than get there before 0830 to sign up. Meet up around 0845 near the registration point so we can snap a photo or two of everyone. If you need parking then park near the box and walk up. Wear something CrossFit and something green if you can.  
Either way just come and have a pint after with the Squatch gang. "Erin Go Bragh!" Ireland Forever! 
Answer: At least one. I'm part Irish from my dad's side. (Chinese from my Mom's side)