For Time:
2000m Row (Max Effort)
Checkout WOD:
Tabata AbMat Sit-ups
Perform max reps for 8 consecutive intervals of:
20 seconds of work followed by 10 seconds of rest. 
The Tabata score is total number of reps.
Results
View this photo
View this photo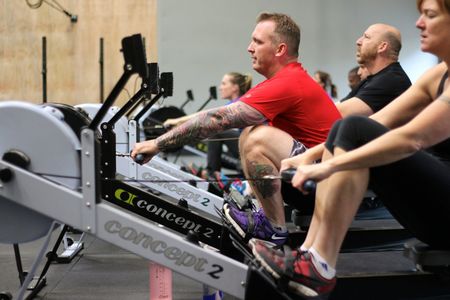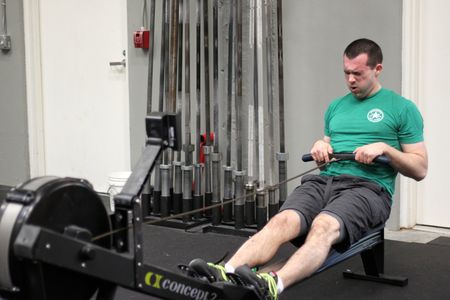 All out max effort 2k row today was a good opportunity to focus on rowing technique. Managing your rower set-up, body position, racing start, stroke rate (SPM), and average pace is vital to knowing when to sprint to the finish. This one hurts the harder you row.
Tomorrow's WOD:
Workout 14.5 aka "Thrusters Suck and Buck Furpees"
21-18-15-12-9-6-3 reps for time of:
Thrusters (95#/65#)
Burpees (Bar Facing)
1. Layout is taped on gym floor for individual barbell and bar-facing Burpee spots. We can run 12 at a time. 
2. No "ghost riding" your bar! That means no dropping it from overhead and saying "Peace out!" This will result in possibly someone getting hurt and you doing a whole lot of extra penalty Burpees. Put it down under control.
3. Step overs or jumping without feet together is not RX'd. (Although apparently it's RX to step UP on a box…) You also cannot jump over and then do a diagonal burpee. You must face the bar.
4. No time cap. Scale accordingly. This one will be tough!
5. Friday Night Lights: MOST IMPORTANTLY after the WOD is finished you are free to bring, share and consume refreshments and post workout libations!
For complete workout standards, video and scorecard click here.
Watch Archived Footage of Rich Froning, Sam Briggs, Jason Khalipa, Annie Thorisdottir and Graham Holmberg on Workout 14.5
For 14.5 it is probably not a great idea to coach/judge your spouse. I doubt you will get a lot of smiles like below: