In teams of 2, complete the following AMRAP 31 minutes (As Many Reps As Possible):
8 Thrusters (155#/105#)
6 Rope Climbs (15′)
11 Box Jumps (30″/24″)
* Partners alternate work on the above rounds with a 400m Sandbag/bumper run (45#/25#).
** One Bar per team unless male/female team
This is a Partner WOD – Partner #1 will perform the work listed above while Partner #2 will run 400m with a sandbag or bumper (45#/25#). Once Partner #2 returns from the run, Partner #1 will grab the sandbag/bumper and begin their 400m, while Partner #2 continues work wherever #1 left off.
Score is your total # of reps as a team.
Results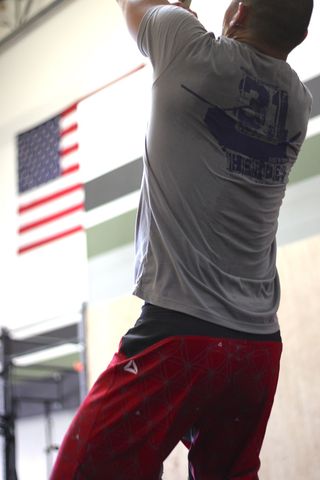 Background from the 31Heroes website:
The 31Heroes Project exists to honor the 31 fallen heroes killed in action August 6, 2011 through fitness and raise funds for programs that provide support to families of all fallen military heroes—past, present, and future.
This WOD was created specifically to honor the 30 men and one dog that gave their lives for our country on August 6, 2011. It is 31 minutes long—one minute in remembrance of each hero. The rep scheme is 8-6-11—the date of their ultimate sacrifice. Finally, this is a partner WOD. The men who gave their lives were from multiple branches of our military, working together as a team.  In the workout you and your team member will constantly be taking the load from each other providing much needed support and relief. We realize that no physical sacrifice made during a workout can come close to the sacrifice our brave heroes made, but we consider this WOD a CrossFitter's 'moment of silence'. This is how we choose to honor those that gave all in the name of freedom.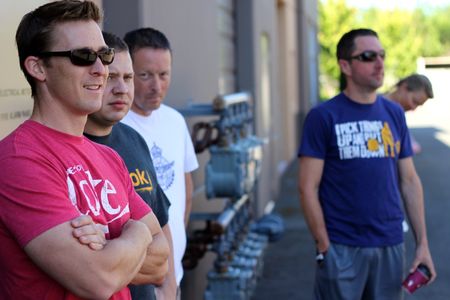 Today we brought our gym community together to tackle this workout challenge and to help gather donations of coffee and other items for Frank's old Army unit currently serving in Afghanistan. If you wanted to make a donation and didn't get it please do so by Wednesday as that is when the care package will be shipped. Thanks to ALL of you who donated for this. It was a great turnout and they will love it.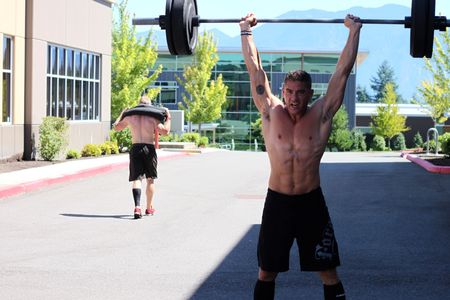 The movements of 31Heroes:
The below note from James P. sums it up perfectly.
"I personally love how the 31Heroes Project website describes this workout as a moment of silence, and as I read Lindsay's Post it made me stop and think about what tomorrow and all the Hero WOD's really mean to me. As a Soldier for 12 years I spent some time in the sandbox, and the memories that I carry with me each day are both good and bad.
I have seen young men and women do things that would amaze most of us. These Soldiers with no regard for their own safety will run into the middle of the most dangerous situation in order to help another Soldier. It is the way that we are inherently programed; it is not that we are not scared of dying it is that our human instincts tell us to protect our families. We do things in the spur of the moment that when all is said and done we look back on and think "what the hell did I just do?". For some though that split second decision to protect the one's they love doesn't turn out the way it was planned. It is a tough pill to swallow when you come home and others do not.
My love and appreciation for the young men and women whom I stood beside for so many years cannot be put into words. I carry a burden with me every day for those that will never get to see their families again. It is the least I can do to WOD for them. It is beyond the comprehension of most as to why we do what we do, but when it comes down to it, it is not about anything other than the people standing to your left and right. So in the morning as I drag my butt to the gym, tired and sore, it is the undying strength of those that have given more than I will ever know that will pull me through those 31 Minutes. No matter how much I sweat and ache and bleed it will never be enough to thank you for what you did for all of us.
To the Men and Women who have paid the ultimate price for our freedom this WOD's for you."