Four Minutes of Max Reps of Each Exercise:
Row (Calories)
Handstand Push-ups 
Back Squats (95#/65#)
AbMat Sit-ups
Results
View this photo
View this photo
Happy birthday to Karrie (with husband Josh):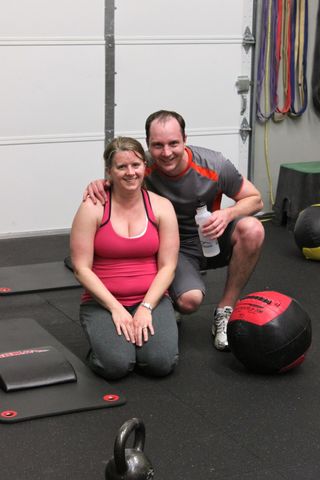 Karrie asked for a birthday WOD in just her second WOD after completing Elements! How's that for "jumping right in"? Hope you liked your workout today and we look forward to many more.
Read this post related to the CF Games Open: CrossFit One World: Superhuman????
Here's another great read on the stages of the dreaded double-under: The Double-Under De-Mystified by CrossFit Northern Ireland
Post thoughts to comments.
Rona back squatting for reps: