Main Class:
40 Front Squats (115#/75#)
50 Partner Med Ball Situps (20#/14#)
40 Partner Wall Balls (20#/14#)
50 Pull-ups
40 Hang Power Cleans (115#/75#)
50 Overhead Walking Lunge With Plates (45#/25#)
* Share work with your partner. Split reps as you see fit except for sit-ups and wall ball.
** Alternate each rep for partner med ball sit-up and partner wall ball.
Advanced RX Class:
Strength WOD: 
5 x 1
Power Clean + Hang Squat Clean + Jerk
Conditioning WOD:
45 Double-Unders
9 Squat Cleans (225#135#) *
60 Double-Unders
12 Power Cleans (205#/125#)
75 Double-Unders
15 Hang Power Cleans (155#/105#)
* De-load as you go.
Results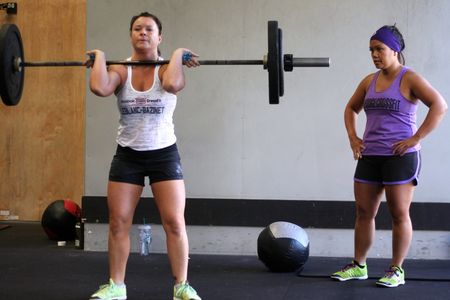 Great feedback on the team WOD Saturday. Sounds like it's more effective to touch the medball behind the head for a better movement on the partner med ball sit-up, and my original plan to add one more pair of movements at 40 and 50 reps would have made it a tougher WOD. Next time we do this we will make these modifications. Team workouts are something that can be tough to program and get right, so your feedback helps!
Huge congrats goes to Mark and Lynn this weekend!
Mark competed at the Rainier CrossFit Strongest Man and Woman Competition and took 1st place on the podium in his weight class.  This competition combines CrossFit and Strongman movements together over several workouts and also is a fundraiser for FRAXA research.
After class Saturday Lynn asked me to watch her muscle-up attempt to tell her what she needed to work on.  She then set up, grabbed a strong false grip, hung with arms fully extended and slowly and perfectly executed a strict muscle-up for her FIRST EVER MUSCLE-UP!  After the entire gym stood there speechless, she let out a scream while everyone realized what happened and clapped and cheered. She then did one more for the cameras. This is a great example of how Lynn's persistent focus on strict pull-ups, ring pull-ups, deep rings dips, kip-ups and transitions off the floor and false grip practice all paid off.  This is the first female to get a strict muscle-up in the gym. Well done!