Strength WOD:
2/2/2/2/2
Push Jerk
* Limit load to what you can safely re-rack onto your shoulders 
Conditioning WOD:
21-15-9 Reps of each for time of:
Kettlebell Swings (70#/53#)
Lateral Over the Bar Burpees
Push Press (95#/65#)
Results
View this photo
View this photo
Today is Day 16 of the 50 day burpee challenge and Day 10 of the Stop the Slop Challenge.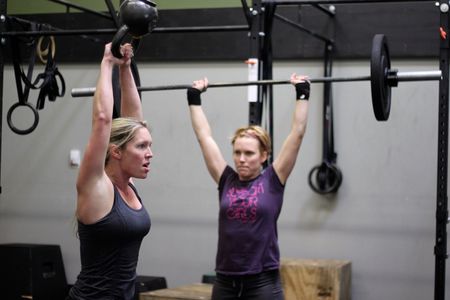 "Coaching the Clean and Jerk" with Natalie Burgener – video [wmv] [mov] [HD mov]
Nutrition:
This is a great resource for finding grass fed/finished meats, pastured pork, poultry and eggs or dairy products in our state: eatwild.com Pastured Products Finder Washington Map
Whole30® Approved bacon by Whole9
CF Events this weekend:
From Meghann: "Hey Squatchers! There are some of us competing in the Seattle Affiliate League. Our first WOD is this weekend at CrossFit Loft if any of you want to come out!" We have two teams and the Comp is on Sunday only and runs from 1-5pm. Here are more details.
This weekend is another competition at CF Lynnwood and Mark will be competing at that one. Here are the only details I could find: there is a Facebook event called Cretus ex Duellem that has a schedule.It says the multi-WOD event runs all day Sat. and all night into Sun. afternoon. That's right, apparently Mark wants to do a workout at 2:30am. Feel free to go to either event and cheer them on! Kick ass SRCF!