Strength WOD:
3-2-1-1-1
Snatch
* 18 Minutes to work up to 3 heavy singles
Conditioning WOD:
7 Rounds for time of:
12 Med Ball Cleans (20#/14#)
10 Overhead Squats (75#/55#) 
Results
View this photo
View this photo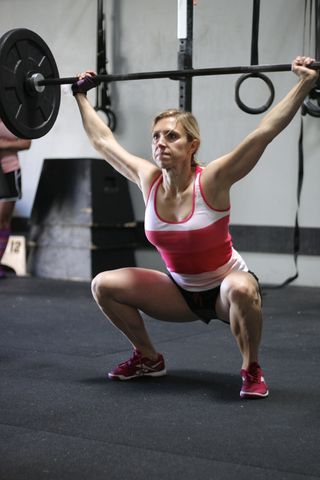 Sorry for the late post. Late night interweb surfing / blog posting turned into ni-night time.
First and foremost, congrats to Team DeBob (Debra and Rob W.) for placing 6th out of 11 teams at the Jet City Tango Throwdown this past weekend. After a scoring mix-up was corrected they were notified of their increased awesomeness with a better than previously reported finish. Great job using your fitness guys!
Second, see below for the 4th of July Schedule tomorrow:
4th of July classes (Thursday):
9:30 class
10:30 class
All other class times cancelled that day (rest of weekend are normal hours)
Third, read yesterday's post to see details on swimming with Lindsay the next two Sunday's. (* Water Wings not included)
Interview: Chris Spealler On Missing Out On The Games therxreview.com