AMRAP for 20 Minutes (As Many Rounds As Possible): 
5 Pull-ups  
10 Alternating Dumbbell Lunges (30#/15#)
15 AbMat Sit-ups  
Results
Got pull-ups? As Travis said, "That cage is paying for itself today." I have to agree.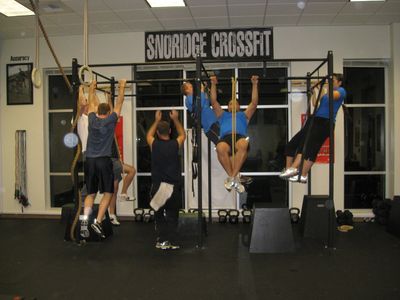 Congratulations all around today! Eli got his kipping pull-ups without a band and Jim M. did his first pull-up WOD as prescribed. Lyndi joined the "over 50" crowd today. That's 50 WOD's! In that time Lyndi has lost 25 pounds and drastically improved her fitness level. She ran her fourth 5k Race since August this past weekend and continued a trend of PR'ing each race! (Reminder everyone: Don't forget to register for the Turkey Trot on the right hand side of the page.)
Eli and Curtis demonstrate the Breakfast Club lunge:
Notes:
Welcome to Erin who started Elements today and to Brian who dropped in with Jeremy for his first WOD tonight. Jeremy even worked out with Brian for his second time today! 
Here's a great video montage from CrossFit by Overload of "The Evolution" of CrossFit over the years. This video was shown for the first time at the Affiliate Fest gathering this past February and I remember it was moving and motivating for all who saw it.  
"The Evolution" by Crossfit By Overload from crossfitoneworld on Vimeo.