21 Overhead Squats (95#/65#)
42 Pull-ups
15 Overhead Squats
30 Pull-ups
9 Overhead Squats
18 Pull-ups
Results
View this photo
View this photo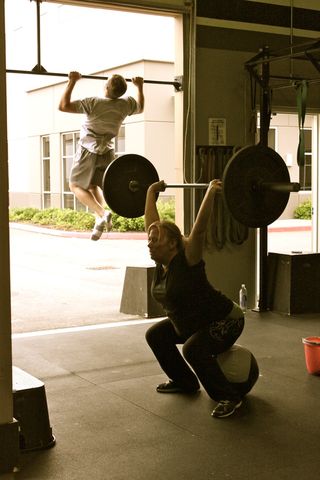 "SSG Joshua Hager, United States Army, was killed Thursday February 22, 2007 in Ar Ramadi, Iraq. Our thoughts, prayers, and condolences go out to Josh's friends and family. Fair Winds, Josh."
This past weekend our nation lost 10% of the warriors who make up one of our best wartfighting units (unofficially called Seal Team Six or Naval Special Warfare Development Group). It is the worst single day loss of US forces in Afghanistan and the largest loss ever by the SEAL community. 
Notes:
Games Vault: Mens End 1, End 2 and End 3, Heat 1 – video [wmv] [mov]
Q: What's the common thread in these pictures?
A: Good Overhead Squat and shoulder position regardless of load