As a team of 2 complete 10 Rounds for Time of:
12 Deadlift (225#/155#)
50m Sprint
20 Sledgehammer Tire Hits (16#/12# – Alternate 10 per side)
50m Sprint
* Alternate Rounds: 1 Athlete works at a time. Tag up after each round and sprint for 5 rounds per athlete. 
Results
Hammer Time: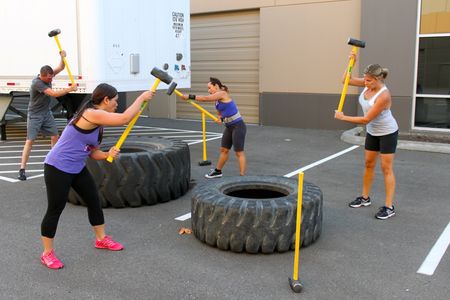 Tag You're It:
Team fun with sledges and deadlifts! Today was a different way to tax the posterior chain with some deadlifts and sprints while the sledgehammers give a little of that pull-up feel and tax the grip. They also work on coordination and venture into training something that can be new and uncomfortable for many. It's been awhile since we broke these out and it looks like they were a "hit". We need to beat on tires more often! One more day of Team WOD's to go…
Tricia sprints and Amy hits:
Don't forget to raise funds (or the minimum $25 donation) for Fight Gone Bad 6 on September 17th 
Events:
Two events on Saturday.
First is the AM WOD will be a 9/11 Tribute workout. Same times. 0930 for the main class and 1045 for the Advanced RX class. That will allow for bigger groups. This workout will not be a team workout. It will honor those who were murdered by a bunch of cowards on 9/11. 'Nuff said.
Saturday afternoon is our SUP (StandUp Paddleboard) and Picnic Day at Idylwood Park on Lake Sammammish. Time is 4-7 pm and the headcount is 25 people not counting kiddos. Bring your own food and for those who RSVP'd for the SUP lesson and rental plan on approx. $25 per person. If you are unable to make it then please let us know ASAP as we are counting on the headcount total to calculate the rental/lesson costs.