As a team of 3 complete the following two triplets for time:
1000m Row
20 Dumbbell Man-Makers (35#/25#)
30 Pull-ups
800m Run
60 Kettlebell Swings (53#/35#)
100 Double-Unders
From CF Centurion
* Each athlete will start on a different exercise in the first triplet. Once all three are complete with their exercise then rotate to the next exercise. Continue until all athletes have completed triplet #1.
** After completing triplet #1 continue to triplet #2 with same format. 
Results
Man-Making with Lindsay and Justin: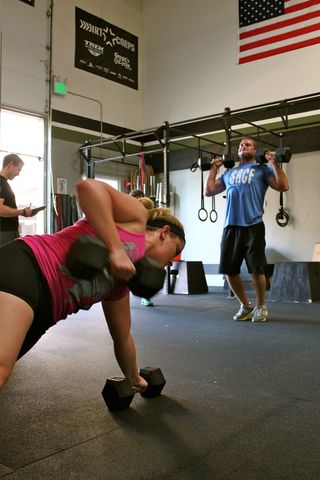 Today's WOD was the team workout that was programmed on the fly at CF Centurion on our vacation when they had a much larger than expected turnout for their Labor Day class. A few coaches got together, threw out some movements and equipment and modified some things into this WOD to meet Coach Ian's training objectives for the day. No doubt the combined pull in the first triplet along with the brutality of the man-makers sets the tone for this lung and forearm burner.
This was our final day of "A Week of Teamwork" or all team WOD's. Give us feedback. From what we have heard so far it was fun and mixed things up.
Sangeeta lookin' good in the Finish Position: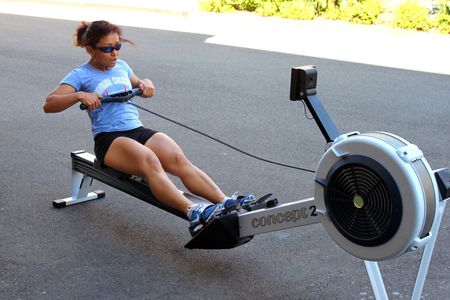 Tomorrow will be our 9/11 Tribute workout. You will have a choice between two WOD's that are memorial workouts and unique in their own way. Plan on normal class times of 0930 for the main class and 1045 for the Advanced RX Class. When you show up you will see the WOD's, do a coach led warm-up and then make your choice. Be ready to throw down and honor the memory of the victims of September 11th while reflecting on the privilege of living in this great nation.
In the afternoon will be our SUP (StandUp Paddleboard) outing and BYOP (Bring Your Own Picnic) day starting at 4pm at Idylwood Park on Lake Sammammish. Be there!
"A Stroke of Genius" with Coach Mike Burgener, CrossFit Journal preview video [wmv] [mov]