"Grace":
For Time
30 Clean and Jerks (135#/95#)
Results
View this photo
View this photo
"That's What She Said" Quote of the Day: "Sometimes I feel like a hot mess trying to get it up." ~ Amanda
Cristin, Amanda and Maggie clean and jerking for time: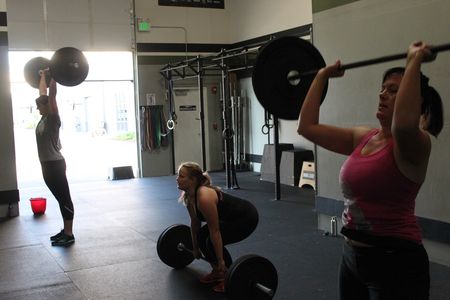 Clint and Justin stand it up while Amanda splits:
What's SUP? Stand Up Paddleboarding: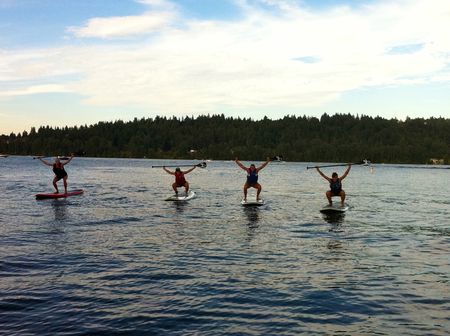 Jenna, Rona, Meghann and Michelle get their SUP Overhead Squats on this past weekend!
We are lining up a SUP outing and BYO-BBQ for Saturday Sept. 10 from 4-7pm at Idylwood Park on Lake Sammamish (off W. Lake Sammamish Parkway towards Redmond). StandUp Paddlequest will be bringing gear and giving a 45 min. to 1hr. lesson and water time for any interested. Right now we have around 15 people interested and the more the merrier. With the current list who have committed it's around $30 a person. If we add more peeps that cost will drop. If you want in then either sign up on the board in the box, post to comments or send us an email. It's a blast!
Notes:
Please keep raising funds for Fight Gone Bad 6 if you plan to participate (link on the right).
Need something to do this weekend? Want to swing or throw an axe? Our friend Kurtis from Rainier CrossFit talks about the RCF Lumberjack Learning/Competition he's hosting this coming weekend in Buckley:
Standing block chop with Kurtis Bowler, Matt Chan and Rory McKernan – video [wmv] [mov]