5 Rounds for Time:
400m Run 
Overhead Squat (95#/65#)
Results
Don all smiles for some OH Squats: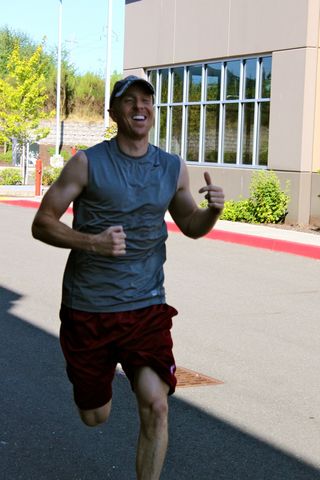 WOD Demo of "Nancy" with Potomac CrossFit – video [wmv] [mov]
ATTENTION Parents: For safety precautions all kids need to remain in the Squatch Cave during the workout and understand the rules around the gym. We must limit the kids being allowed to leave the kids area except for using the bathroom or unless they are being escorted by an adult. This means no bikes, scooters etc. out back during the WOD, no running out of the cave during a workout. Please explain all of the rules clearly to your children and ensure they understand that any adult is an authority figure in the gym and is looking out for their safety. Remember the kids cave is an area for them to calmly play and/or watch TV, not have the latest Ultimate Fighting Championship!
Notes:
Why do Fight Gone Bad 6? Here's why. Take the time and watch it. Then please raise funds if you plan to do the WOD (we are asking that all SRCF members raise $25 minimum to participate).
The story of the Special Operations Warrior Foundation, supported by Fight Gone Bad 6 – video [wmv] [mov]
Ways to strengthen your push-ups, trunk and shoulders: 7 Push-up Variations by Men's Health
Derek says "Squat and have a Stella, it's the weekend!"