5 Rounds for time:
400m Run
25 abMat Sit-ups
25 Good Mornings (45#/33# bar or Green: M/Blue: F band) 
Results
View this photo
View this photo
Big Kip: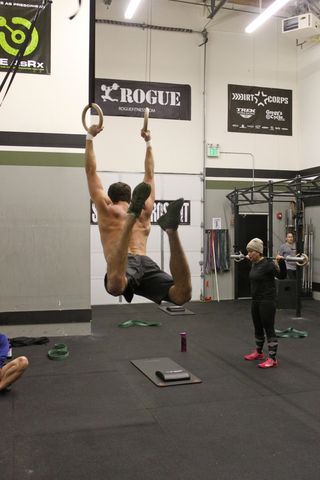 Banded Good Morning and Bar Good Morning with Rob and Luanne:
Notice anything different in the pictures above? Other than a band and a bar? You really shouldn't. The movement pattern is the same for the Good Morning. Both Rob and Luanne show good position and an emphasis on a flat back, tight core, and a flat or slightly arched spine in the lumbar region. With the bar the elbows stay up to help keep the back from rounding. With the band the hands hold the band like ski poles and the shoulders and chest stay up with the chin to maintain a flat back.
As an assistance exercise the Good Morning helps train and strengthen the hip extensors which will aid in deadlifts, clean, snatches, squats, etc. Always keep the chin up and the core tight to avoid rounding the back and risking injury. If you look like a turtle shell you are in the wrong position. The other effect of these is that with or without a heavy load when done correctly your hamstrings will hate you in 1-2 days.
"Training With Champions: Parts 1 and 2" with Mikko Salo and Dan Bailey, CrossFit Journal preview video [wmv] [mov]
Notes:
Please take the Mobility survey on the upper left hand side of the site.
Advanced RX Class test is tomorrow night at 7pm for Lindsay and Laura M. Please come early and warm-up upstairs. Only one spot remains open. There will be a make-up day/time but that is TBD.