Advanced RX Class:
EMOM 10 Min Squat Clean
1 Squat Clean, pick load
Every 1 min for 10 mins.
Pt. 1: 25 RFT: Burpees, Squat Cleans and Handstand Push-ups
25 rounds for time of:
3 Burpees
1 Squat Clean (185#/125#)
2 Handstand Push-ups
E2MOM for 10 minutes Run and Pushups
Every 2 min for 10 minutes perform:
200m Run
15 Push-ups
The quicker you finish the more rest you have. If you go over the 2 minutes continue on the next 2 minute interval.
Post round times.
Photo by @robcwilson
SRCF Teens Class begins this Wed. on 10/18. Classes will be every WEd. from 5-6pm and Sat. from 10:30am to 11:30am. We will run 10 sessions until 11/18 and take off the week of Thanksgiving.  After the Holiday we will start another session. Details are below:
Coach Lynn will teach ages 10-15 years old
Times: Each Wed. 5-6pm and Sat. 10:30-11:30am
Teens can sign up for just 1 or both (2) classes per week
Cost is $150 for 10 Sessions ($75 for 5 sessions)
Focus will be learning proper technique and lifting basics followed by a short workout of the day
Note: Saturday class is after the normal Team WOD and during Adv RX Class. This is NOT an open gym time for additional workouts.
10 session from 10/18 through 11/18
Sign-up through

MindBody

Select "Services" Tab and then CF Kids in the dropdown to pay
Choose 10 classes or 5 classes
SRCF Blankets are for sale! These are super soft large blankets that feel like your favorite hoody! They come in six colors and measure 62″x78″. Cost is $35 each. To preorder please post in the FB Group or let us know in the gym.
Colors to choose from are (From L to R; Top top row first):
Carbon Charcoal
Heather Pacific Blue
Nickel Gunmetal Grey
Heather Red
Heather Green
Heather Midnight Blue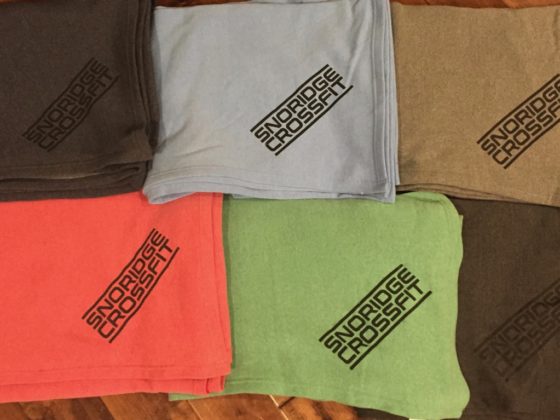 Results