Advanced RX Class:
Rowing "DT"
5 rounds for time of:
15 Row (Cal)
12 Deadlifts (155#/105#)
9 Hang Power Cleans (155#/105#)
6 Push Jerks (155#/105#)
Checkout: FT: Unbroken Double Unders and Wall Balls
For time:
50 Double Unders (Unbroken)
25 Unbroken Wall Balls (20#/14#)
Rest 30 secs
40 Double Unders (Unbroken)
20 Unbroken Wall Balls (20#/14#)
Rest 30 secs
30 Double Unders (Unbroken)
15 Unbroken Wall Balls (20#/14#)
Rest 30 secs
20 Double Unders (Unbroken)
10 Unbroken Wall Balls (20#/14#)
Rest 30 secs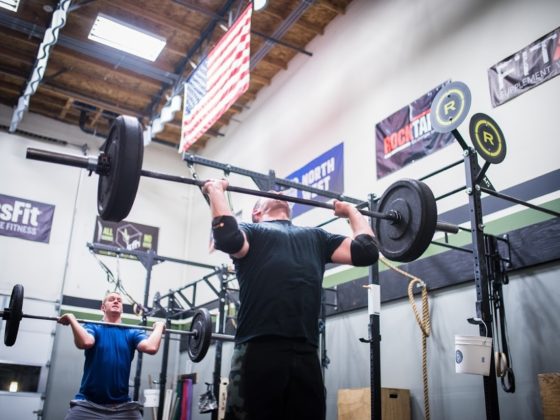 Photo by @robcwilson
February OnRamp starts this Tuesday and there is still some room! If you know someone interested tell them to contact us for more details on signing up.
Our February OnRamp Schedule:
Tuesday 1/31 at 7:00 pm
Thursday 2/2 at 7:00 pm
Saturday 2/4 at 8:30 am
Tuesday 2/7 at 7:00 pm
Thursday 2/9 at 7:00 pm
Saturday 2/11 at 8:30 am
* Each OnRamp session will run approximately 1hr to 1 hr 15 min.
CrossFit Games Open Schedule:
The Open is coming!
STAGE 1: THE OPEN
FIVE WEEKS | FEB. 23 – MARCH 27
17.1: Feb. 23 – 27
17.2: March 2 – 6
17.3: March 9 – 13
17.4: March 16 – 20
17.5: March 23 – 27
The Open is the first stage of the CrossFit Games season and the largest community event of the year. Every year, hundreds of thousands of athletes come together to compete in the worldwide, online competition. The Open feeds the Regional Qualifiers and then the Games.
Anyone aged 14 or older can compete in the Open. All you have to do is sign up at Games.CrossFit.com and log your score each week. Workouts are released on Thursdays at 5 p.m. PT (join us each week in the lobby to watch the announcement as it streams live), and we will program the workout for the week every Friday for everyone to complete in class and submit their score online. Scores are due before 5 p.m. PT the following Monday. Each week you will complete the workout with a judge in your Friday class, then swap and judge them, ensuring proper range of motion is met and good reps are counted.
Need to scale? No problem, the Open has a scaled option in addition to the prescribed workout. The scaled version will be programmed as well each Friday. Anyone registered for the Open that is unable to make it to class on a Friday to complete that week's Open event must contact us in advanced to arrange a makeup and a judge. Make-ups will be Monday during AM classes (scores are due at 5pm).
Depending on the logistics required for each Open workout we will announce if we are doing class sign-ups on Friday's. All registered athletes need a judge so that means you will help judge when you aren't doing the WOD in your class. If you aren't registered you don't require a judge but you can help out by being a judge.
If you are going to attend Friday classes then you will be completing the Open WOD so you might as well register!
How to Register:
Follow these steps to Register for the 2017 Open to ensure you join our Team! If you don't do all of these you won't show up as a member of Team SnoRidge CrossFit and you will not see your scores once validated vs. the gym.
1) Go to games.crossfit.com and Click "Register"
2) Sign In or create a profile
3) Under "where do you workout?" enter "SnoRidge CrossFit" for your affiliate
4) Agree to all terms, then enter billing info
5) Register
6) On the Congratulations for Registering page, click "Fill In Your Profile" then "Update" (even if you changed no info)
7) You will see "Join a Team", click ext and enter or select "SnoRidge CrossFit"
8) Update
Your competition page should then show Affiliate AND Team as SnoRidge CrossFit for BOTH. You must see BOTH to be on the team.