3 Rounds for time:
200m Run
50 Double-Unders
25 Thrusters (95#/65#)
Results
Thrusters: Boooooooo! Hissssss!
Shameless Plug Alert!
We made the CrossFit Affiliate Site for Fight Gone Bad 5! Great short write-up with a picture of us doing wall balls. Pure awesome sauce!
Today's WOD was courtesy of the Again Faster Team Competition and a truly brutal triplet. You simply never catch your breath. The running and double-unders combine with the thrusters to vacuum the air from your lungs. For some videos of some serious fire breathers crushing this WOD go to the following link and scroll down to WOD 1 videos. The winning time was 7:55!
Bodyweight Grace: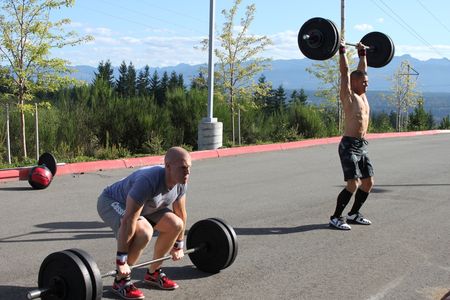 Attention early arm pullers:
Ursula Garza Papandrea explains how to correct a short 2nd pull by using a close grip snatch. (By the way – I love this site! Olyathlete.com)