AMRAP: As Many Rounds As Possible in 20 Minutes:
5 Handstand Push-ups (Head to floor)
10 Knees-to-Elbows
15 Steps, Walking Lunges (Knee gently touches ground)
Results
Nan demo'ing the pike push-ups, knees-to-elbows and walking lunge:
1 day to go to raise funds for Fight Gone Bad V! Show up on Saturday and get ready to rumble! Who's in? Let's get a great turnout for the box.
As for today's WOD, lots of ways to scale this one. For learning to get inverted: Pike off the floor, pike off a box, use 1 AbMat under the head, do banded Handstand Push-up's, even get a little crazy and make it harder by doing ring HSPU's! Whatever method always touch top of head to floor, never the nose or forehead. Failing on your face and breaking your neck would just make your WOD's that much harder!
For progressions and exercises for working on strengthening your core and progressing towards knees-to-elbows see the video below.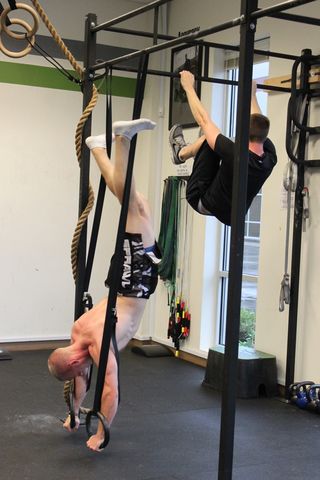 Hanging Ab Exercises by Again Faster: