Strength WOD:
1RM Snatch (Squat)
* 15 Minutes to find a 1 Rep Max
Conditioning WOD:
"Amanda"
9-7-5 Reps of each for time of:
Muscle-ups
Snatch (135#/95#) * full squat
Or "Scaled Amanda"
For time:
9 Squat Snatch (135#/95#) 
25 Pull-ups 
25 Ring Dips 
7 Snatch 
15 Pull-ups 
15 Ring Dips
5 Snatch 
10 Pull-ups 
10 Ring Dips 
Results
View this photo
View this photo
"Amanda" is a benchmark and tribute WOD that while low in reps is relatively heavy in load and high in technical skill. Both movements require a high level of concentration and efficiency of technique or you will wind up missing reps. Fist bumps to all of you who either PR'd your snatch today or tackled Amanda for their first time!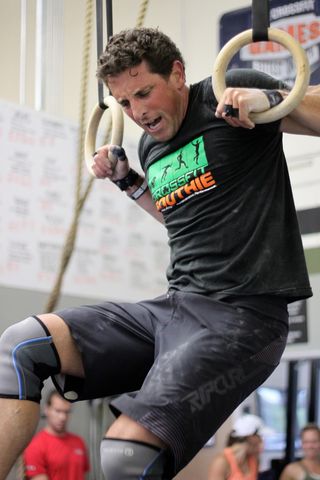 Third Games Event Announcement
Schedule:
2013 CrossFit Games AKA our "5th Annual Epic-ation":
This year will be our 5th trip to see the Games in person! During that time we are gone (along with about 20 of Team SRCF) the gym will have reduced operating hours (7/25 to 7/29).  Coach Moe will be here covering a limited class schedule which automatically puts her in the lead for being named "Coach of the Year"!
The CrossFit Games will be from July 26-28 (Individuals and Teams), Masters will be July 23-25. The Masters will stream some events on games.crossfit.com, the Individual and team events will be on ESPN3 and the Finals will be on ESPN2.
**If you don't see a time listed below for that day then those classes are CANCELLED!**
Official SRCF Class Schedule with Coach Moe during the CF Games:
7/25: Thursday        11:30am, 5pm, 6pm, 7pm Classes ONLY
7/26: Friday            11:30am, 5pm, 6pm Classes ONLY
7/27: Saturday        9:30am Class ONLY
7/29: Monday          11:30am, 5pm, 6pm, 7pm Classes ONLY
Coach Moe has agreed to cover the above schedule. Please help her out by coming in on time ready to warm-up, workout, clean up and put all things back properly where they belong. Keep her happy by following the rules and bring her random unicorn and glitter stuff and she will be a happy coach.
If you show for any other time than those listed above…that's a NO REP!