Complete as many rounds and reps as possible in 9 minutes of:
10 Dumbbell Hang Power Cleans (40#/25#)
10 Pull-ups
5 Handstand Push-ups
Results
View this photo
View this photo
Bar Mobility Work: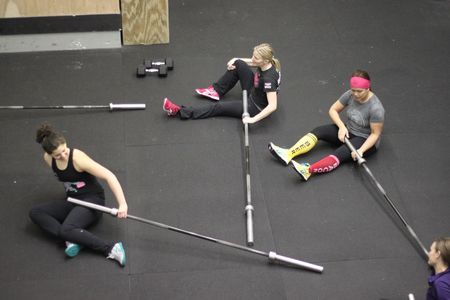 Quote of the Day: "The key is to keep company only with people who uplift you, whose presence calls forth your best." ~ Epictetus
Open WOD 12.3 has been announced. We will do this tomorrow. Click the link below to read up and then watch the video for instructions. Also watch the box jump coaching videos. This is a long workout. You will have 10 minutes to get warmed up then be ready for the WOD so we can fit everyone in.
If you aren't competing in the Open then scale this WOD like any other. If you are competing do your best to get as many RX reps as you can, then scale whatever you have to. Meaning if you did 15 RX Box Jumps, 12 RX shoulder to overhead at 75#, but had to scale the toe to bar, your WOD score to submit is 27 reps. 
You can and should absolutely continue the WOD by scaling the T2B, for the full 18 min., but your Open 12.3 score is 27 reps. 
If someone has to scale the push press weight, but can RX the box jumps, their score is 15 reps. If they cannot complete a 24″ or 20″ box jump, then their score is 0.
Here are the expectations for Open Week 3 for everyone:
Workout 12.3 (For Thursday all classes; make-ups on Saturday at 11)
Complete as many rounds and reps as possible in 18 minutes of:
15 Box Jumps (24″/20″) 
12 Push Press (115#/75#) 
9 Toes-to-bar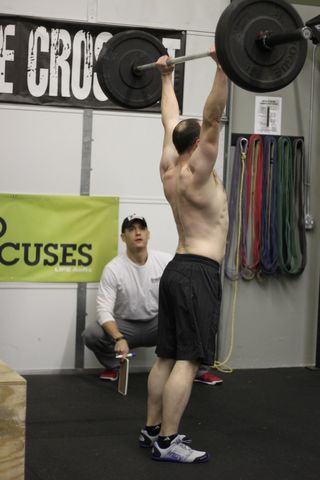 The workout will begin with box jumps. The athlete will jump with two feet and come to a standing position with knees and hips locked out on top of the box. After 15 reps they will move to their loaded barbell. The barbell will begin on the ground. For the Push press to count the barbell will move from the shoulders to the overhead position, with the knees, hips and shoulders extended in one line. After 12 reps they will move to a pull-up bar. For the Toes-to-bar to count, the feet must begin behind the bar at the bottom and both feet must touch the bar at the same time at the top. After 9 reps are completed, the athlete will begin their next round. Every rep counts in this workout. Credit will be given for partially completed rounds.
– Each class you will pair up and go in a minimum of 2 waves. 
– If you are registered and competing in the Open you will go first with a judge. Judge is responsible for counting and calling "no rep". 
– Non-competing athletes follow and may not get a judge due to length of WOD. 
Standards to judge listed above. 
Note: No rebounding off the top of the box. Must stand up then jump down or step down. Step ups is scaling. For T2B the toes must be in line with or behind the bar at the bottom of the swing. 
– Have fun and push your fellow athletes!
For a downloadable PDF of the workout, click here.
CrossFit Games Open 12.3 workout instructions – video [wmv] [mov] [HD mov]
Annie Thorisdottir 13 rounds + 8 push press (20″ box, 75lb push press). 
Post rounds and reps completed and submit your results as part of the CrossFit Games Open.
Notes:
"Perfecting the Box Jump" with Kelly Starrett and Carl Paoli, freeCrossFit Journal video – preview [wmv] [mov]
"Efficiency Tips: Box Jumps" with Matt Chan – video [wmv] [mov] [HD mov]