For time: 
400m Run
20 Pull-ups
30 Push-ups
40 Air Squats
400m Run
15 Chest-to-bar Pull-ups
25 Ring Dips
35 Front Squats (95#/65#)
400m Run
10 Muscle-ups
20 Handstand Push-ups
30 Overhead Squats (95#/65#)
Results
View this photo
View this photo
View this photo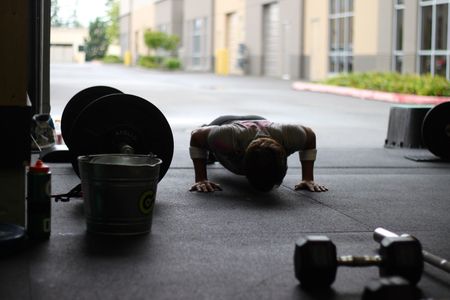 This WOD was like a game of Angry Birds. You have a basic strategy going in. That first level is pretty easy and kind of fast. You want all the stars. As you go farther along it gets more challenging and more frustrating. Two stars is good enough. Strategy goes out the window. At some point you hit a wall and you simply want to finish the level and don't care if you even get one star. You just want the level to be over and you actually don't even like the game that much.
I wanted to program a chipper that built up in skill as the reps fell. I wanted some of those skills taxed by simpler movements before you get to them. This one had that. The wall was found by the time you reached the muscle-ups, handstand push-ups or overhead squats.
Pull-ups and PFT – US Naval Institute Blog
What is a "Hero" WOD?
Watch: "We Rally" from the "Hotshots 19" memorial event – video [ipod] [mov] [720 HD] [1080 HD]
Chris and Jules knocking out muscle-ups: