Benchmark week Day 3. There's a reason these are benchmark workouts.
For Time:
50-40-30-20-10 reps each of
Double-unders
Sit-ups (AbMat)
Results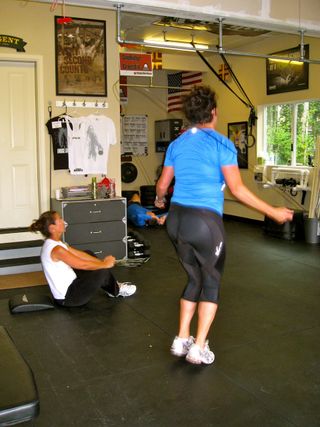 The dreaded double-under. For many that's what it is. Equal parts elation and frustration (if you haven't got it). You go from "I got it" to "I f*@king hate it" in a span of a few jumps. It's either a weakness, a frustration or an achilles heel. Or all three. If you were part of the playground mafia in elementary school then you likely ruled at double-dutch and other rope skipping games. If you were like me then you used a jump rope for things like tug-of-war or lasso attempts. 
Once you get it though you quickly realize it trains several aspects of fitness: cardio-respiratory endurance, coordination, agility, and speed. Keep working at them, use the cues and know you will either learn or get better at them with practice. Either way we will do more of them.
Reminder: 
The gym is closed next week but we will post a daily WOD for you. Post your results!
Register for the race if you haven't yet. Click on the Snoqualmie Railroad Days picture over on the right side of the blog to take you to the registration page.