Affiliate Team WOD:
10 rounds each for time:
10, 9, 8, 7, 6… down to 1 each of:
Power Snatch (95#/65#)
Overhead Walking Lunge (95#/65#)
End each round with a 200m Run
Results
Zombie Workout:
Main Class WOD:
As a Team of Two, men lift 11,000 lbs. and women lift 7500 lbs. anyway overhead for time:
Choose one bar from below weight options, then alternate with each partner to complete (use clean and jerk, snatch, thruster, etc.):
Men:
96 Reps Anyway Overhead (115#)
116 Reps Anyway Overhead (95#)
147 Reps Anyway Overhead (75#)
Women:
90 Reps Anyway Overhead (85#)
119 Reps Anyway Overhead (65#)
167 Reps Anyway Overhead (45#)
Results
Mark displaying his enthusiasm for Power Snatches: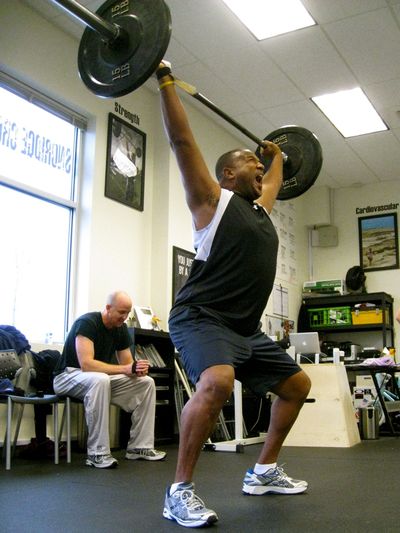 Sometimes it just feels really good to throw a bunch of weight overhead. Today both WOD's focused on quickly moving a large load overhead. In one WOD that method was the power snatch, in the other the decision of how much and what method to get a load overhead was up to each team. The most common method was the clean and push press, although the snatch was a close second. Either way speed and efficiency were the deciding factors. Remember that whether it's a clean or snatch, keep the barbell close to the body, move fast, explode to reach full extension and open the hips before the arms bend. At the point where the barbell has accelerated to its max height due to momentum begin moving the barbell overhead as you drop under it. Land at full extension (in a partial squat if needed) with active shoulders and the arms locked out overhead.
Notes:
Day 39 of the Burpee Challenge! Don't give up now, there are only 11 days left!
Cross your fingers for Pat who tried out for Survivor today! Like a true Survivor he wouldn't accept that there weren't any numbers left to stand in line so he bargained his way into a chance by buying someone else's spot in line. Let's hope he is one of the lucky few so we can watch him do burpees at tribal council.
Several of us went sledding and tubing this weekend at the Summit with the little ones. It was a great time for both groups and we will do our best to help coordinate a group trip in January or February when the snowfall has piled up. 
The St. Patty's Day 5k Dash is this March on the Ridge. Registration info is on the right hand side. Get signed up and let's run for the pot o' gold.
It has been great reading and hearing about several of your resolutions and goals for the coming year. Be sure to write them down. We can't wait to see you achieve them. I am most personally stoked about the prospect of being able to compete side by side with Michelle in Sectionals and Qualifiers. Regardless of how we do, competing together will be a victory in itself!