Main Class:
"Jerry" 
Sergeant Major Jerry Dwayne Patton, 40, died on 15 October 2008 during High Altitude High Opening (HAHO) training while assigned to Army US SOCOM preparing for deployment to Afghanistan. Jerry is survived by his wife Molly and his sons Chad, Cody, Chase and Connor. 
For Time: 
Run 1 Mile
Row 2K meters
Run 1 Mile
 "Jerry Relay"
In Teams of 2, Complete the following for time:
4 rounds, each partner alternating sprints:
200m Run per partner (tag up and alternate) 
4 rounds, each partner alternating rows:
250m Row per partner (tag up and alternate) 
4 rounds, each partner alternating sprints:
200m Run per partner (tag up and alternate) 
* Both athletes alternate sprints and rows and complete 1600m running and 1000m rowing each
** Share one rower per team
Advanced RX Class:
"Dae Han"
U.S. Army Sergeant First Class Dae Han Park, 36, of Watertown, Connecticut, assigned to the 3rd Battalion, 1st Special Forces Group (Airborne), based out of Joint Base Lewis-McChord, Washington, died on March 12, 2011 in Wardak province, Afghanistan, from wounds suffered when enemy forces attacked his unit with an improvised explosive device. He is survived by his wife, Mi Kyong, daughters Niya and Sadie, parents Joseph and Bonnie, and siblings Katie and Saejin.
3 Rounds for time of:
800m Barbell Run (45#/33#)
3 Rope Climbs 15′ 
12 Thrusters (135#/95#) 
WOD Demo with Dave Leys – video [wmv] [mov]
Results 
View this photo
View this photo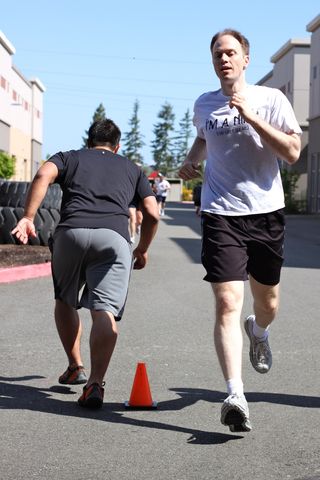 Today we honored Armed Forces Day with two Hero WOD's. I want to thank you all for the respect and effort everyone put out today for workouts dedicated to our fallen heroes. It was cool to see the relay WOD work so well with people tagging, sprinting, coaching and moving. The group that went solo established some new Leaderboard times for both men and women (or world records at SRCF). Also Luanne completed her 250th WOD today! After the cardio work from "Jerry" was over for the Main class, the Advanced class honored a soldier from Joint Base Lewis McChord in "Dae Han". This workout included something new for everyone; the challenge of running with an empty barbell.
Our next Hero WOD will be Memorial Day "Murph". Sign-up on the whiteboard for your time slot. 11:30am is pretty much full but the 1pm class is open. Parents/CF Teens go at 9:30am.
Three weeks until CrossFit for Hope on June 9th. Join CrossFitters around the world in the new "Hope" workout for a great cause. 100% of money collected goes to St. Jude Children's Medical Research Hospital. Sign up today!