Back Squat 2-2-2-2-2
Back Squat 2-2-2-2-2
Use the heaviest weight you can for each set.
Rest as needed between sets.
21-18-15: Back Squats and Lateral Burpee Over Barbells
21-18-15 reps, for time of:
Back Squat (135#/95#)
Lateral Burpee Over Barbell
Photos by @robcwilson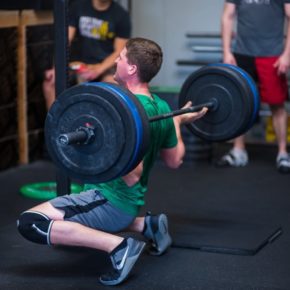 Sometimes you make the lift, sometimes you don't.  Knowing how to fail and bail is just as important to knowing how to properly execute the rep. Always have a solid understanding of the right way to hit the "eject" button and practice it.  Here Taylor PR's his back squat and in the other pic he shows how to bail correctly.
Events:
Schedule Notice: Monday 5/28
Memorial Day Murph is coming!
We will hold our annual Murph workout on Monday (Memorial Day) in the AM
Wave times are posted on the whiteboard; Sign-up in the gym to reserve a slot

9am, 10am, 11am, 12pm waves (12 to a heat)
We will adjust as needed if there are more people

In addition to the RX Murph and the 1/2 version, we will also program a team version for 2 this year
Katrin Davidsdottir Almost Sweeps Regionals in Dominating Victory