Back Squat 2-2-2-2-2
Back Squat 2-2-2-2-2
Use the heaviest weight you can for each set.
Rest as needed between sets.
AMRAP 10 mins w/ Buy-in: Rows, Wall Balls and Sumo Deadlift High-pulls
In 10 mins do:
Row 1000m
then in the remaining time, AMRAP of:
25 Wall Balls (20#/14#)
25 Sumo Deadlift High-pulls (95#/65#)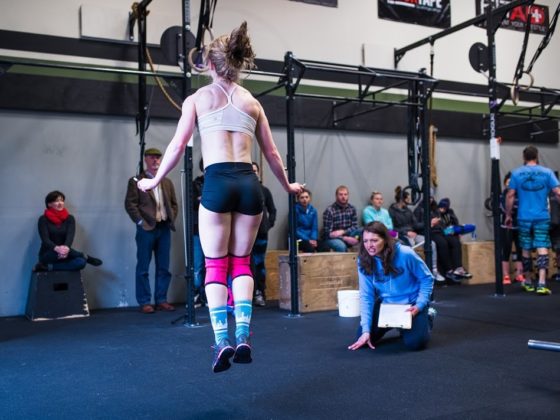 Photo by @robcwilson
Congrats to Eva! I think it's safe to say that she has qualified and will advance to the Online Qualifier for the Teenage Girls (16-17) division for the "Regionals" step for the 2017 CrossFit Games. The top 200 will advance with their Open placing counting as one WOD (Open final standing = points for WOD "1"). Eva finished the Open ranked 133rd in the world out of around 2,100 girls.
We're all very proud of her for setting high goals after last year's Open and training hard consistently day in and day out to improve all aspects of her strength and fitness and see how far she could go to advancing to the Games. She overcame being sick in Week 1 of the Open to put in four straight strong and dominant scores to stay in the top 200. Getting to the next step is an extremely impressive achievement and we're all excited to see how she does in April in the Online Qualifier. Her dedication, discipline, and improvement all year long have been inspiring and it's been fun being one of her coaches along the way.