Skills WOD:
8-10 minutes Muscle-up practice
Conditioning WOD:
For time:
10 Press (115#/75#)
15 Overhead Squats (115#/75#)
20 Push Press (115#/75#)
25 Front Squats (115#/75#)
30 Push Jerk (115#/75#)
35 Back Squats (115#/75#)
Results
View this photo
View this photo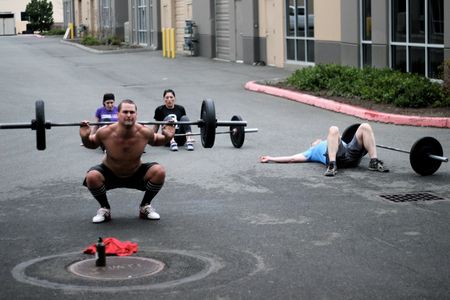 Tough chipper today using only a barbell. I think this workout surprised many. A physical and mental grind.
Quote of the day: "Last year and at the start of this year I felt the same…why pay money for workouts when I clearly won't make regionals?!  I felt it was silly. Then someone said it was a way to support a sport you love!  It's not actually that much money. Through out these past weeks its been much more. I've watched people push themselves beyond what they would in normal everyday wods. Some getting skills they never have had. I've also seen amazing camaraderie that can't be matched.   I so don't regret signing up. Even with the 150 wall balls, I would do it again." ~ Teri R. on what the Open means to her. (By the way you are doing it again next year.)
Open WOD 13.5 announces tomorrow at 5pm. Who's ready for these two epic final week match-ups?
CF Games:
"Dave Castro Gives Insight to 13.5" – [video]
"CrossFit Games Update: April 2, 2013" – [video]
Nutrition:
Top 11 Biggest Lies of Mainstream Nutrition by authoritynutrition.com