Strength WOD:
In 20 minutes, find your 3RM of the "Bear Complex":
Each rep or complex consists of 1 of each of the 5 lifts in order. Complete 3 consecutive reps or complexes of the following sequence:
Power Clean
Front Squat
Push Press or Jerk
Back Squat
Push Press or Jerk
Rules:
Bar must touch the ground each sequence but cannot rest on the ground or it terminates the set.
Goal is to increase loads each round to complete "The Bear" with a 3 rep max load. 
Rest as needed between sets; remember you have 20 minutes.
No re-grip allowed.
You must power clean the bar to full standing position before squatting the weight. (Deadlift to Hang Power Clean) is allowed. No squat cleans.
Conditioning WOD:
In 5 Minutes complete:
750m Row
Max Effort Double Unders in remaining time
* Score total DU
Results
View this photo
View this photo
The Bear Complex is both a strength and potentially a conditioning workout. Through multiple sets of each complex at lighter weight it has a cardiorespiratory effect while at load it demands efficient technique and a plan of attack (receiving the barbell from overhead to the rack; should you thruster or push press/push jerk after the squat). Once it's heavy the mental challenge of not letting go of the barbell makes you hang on, get efficient, and push through the complex.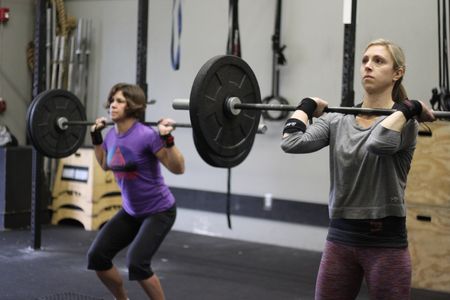 Coaching Tip: Receiving the barbell behind the neck 
Complete the push press/jerk overhead and stand tall
Lower the bar with the chest up (vertical dip; do not bend forward or lean back)
As you receive the bar onto the trapezius muscles (not the neck) bend your knees to absorb the load
Practice receiving the bar by bending the knees to absorb impact at all loads to build the habit
The Dumbbell Bear: CrossFit Journal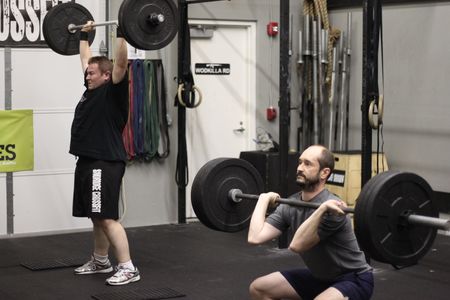 Notes:
This guide is spot on and what we apsire to be here at SRCF for each of you:
How To Find the Perfect CrossFit Box For You by CrossFit Rockwall
Chris Spealler won "Amanda" in 3:29 at the 2010 CrossFit Games. Speal completes Amanda 10 seconds faster (9-7-5 of Muscle Ups and Snatches @ 135#).