Strength WOD:
Every 45 Seconds for 6 Minutes complete:
1 Power Clean + 1 Hang Squat Clean (Use 70% of 1RM Clean and Jerk)
Conditioning WOD:
3 Rounds for time of:
400m Run
5 Bear Complex (135#/95#)
* Bear Complex: Each rep (or complex) consists of 1 of each of the following sequence:
Power Clean, Front Squat, Push Press or Jerk, Back Squat, Push Press or Jerk
Results
View this photo
View this photo
View this photo
Apparently Teri really liked today's WOD: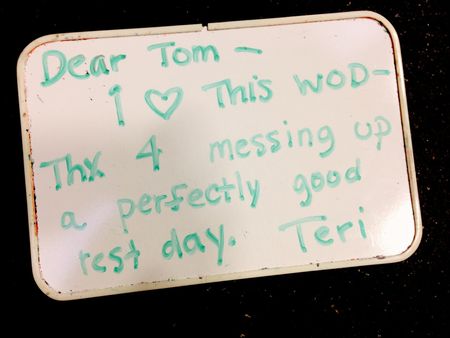 After an initial run this turned into a steady 400m crawl for me after each round of "The Bear". This complex is a great combination of strength, technique, concentration, and stamina. 
FitAid: Today we billed all the FitAid punch cards. Each card has been marked off with a red line for those cans that have been paid. Please continue to use up your card blank spots for any cans and those will be billed next month.
Rack setup with Bethanie Giardina – video [ipod] [mov] [HD mov]