Main Class:
As a Team of 2 Complete AMRAP in 20 Minutes of:
4 Dumbbell Man-makers (35#/20#)
8 Pull-ups
12 Box Jumps (24″/20″)
* Alternate each exercise with your partner. Post total rounds.
Advanced RX Class:
Strength WOD: 
3-3-3-3-3
"Bear Complex"
Each rep or complex consists of 1 of each of the 5 lifts in order. Complete 3 consecutive reps or complexes of the following sequence:
Power Clean
Front Squat 
Push Press or Jerk
Back Squat 
Push Press or Jerk 
Rules: 
Bar must touch the ground each sequence but cannot rest on the ground or it terminates the set. 
Increase loads each round to complete "The Bear" x 3 reps/complexes.  
You must power clean the bar to full standing position before squatting the weight. 
Thruster is allowed.
Conditioning WOD:
5-4-3-2-1 reps of each for time of:
Bear Complex (135#/95#)
Muscle-ups
Results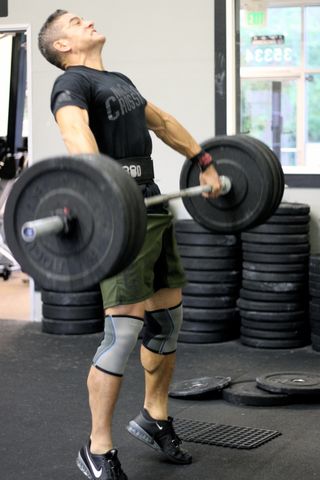 "Elbow Position for the Jerk" with Kendrick Farris and Cara Heads Slaughter – video [ipod] [mov] [HD mov]