Bench Press 5-5-5-5
Bench Press 5-5-5-5
Use the heaviest weight you can for each set.
Rest as needed between sets.
EMOM for 15 mins: Burpees
10 Burpees
Every 1 min for 15 mins.
* If you fall behind on 10 reps then scale to a number you can maintain for around 35 sec. work/25 sec. rest
** For extra credit continue to 20 minutes.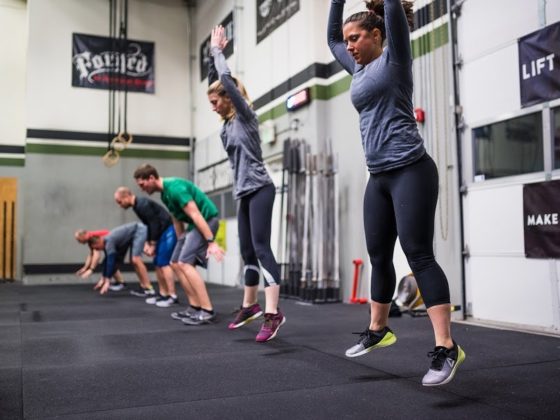 Photo by @robcwilson
Sign up and join our Affiliate and then select our Team (Team SnoRidge CrossFit).  The Open starts Feb. 22nd! Sign up now to be a part of the fun.
CF Games Open Team SnoRidge CrossFit Roster Count: 28
The Open begins this week!  Our first WOD announcement will be 5pm on Thursday and we will stream it live in the lobby.  We know there are more of you who plan to sign up and we would love to see a better turnout. There are tons of reasons we have heard for not signing up and I will list all the good ones right now….
So there are really no good ones.  Remember, YOU make the Open what it is for our gym. "Friday Night Lights" is just another Friday Night if no one does the Open. Registering helps you push to try harder, be accountable, and be part of what the Open is. It means you help judge your buddy, push yourself, cheer for each other, and enjoy the ride instead of sitting on the sidelines. Get in the game, relax and take it one workout at a time.
New to the Open and not sure what it is? The Open is the first stage of the CrossFit Games and is open to ALL in the community.  There are RX, scaled, teens and masters divisions to be part of. You can choose to scale one week and RX the next depending on the workout, movements, loads and standards.  Each week starting this Friday for 5 weeks we will program it as our Friday WOD for all classes.  If you are registered one of your classmates will judge your movements and count your reps. You will enter your score online or in the CrossFit Games app each week and you can see how you stack up against the world, region, state, age, etc.  It's $20.
If you are planning to workout during Friday Night Lights (Friday PM classes) for the next five weeks then be prepared for registered heats/judges to go first. As we have traditionally done in the past, you are welcome to bring some post WOD drinks and knock one back after.
Is the CrossFit Open the biggest sporting competition on Earth? by CNN
The Open Is a Great Time of Year