Bench Press 4-4-4-4
Bench Press 4-4-4-4
Use the heaviest weight you can for each set.
Rest as needed between sets.
Muscle-up Practice
Practice muscle-ups
After bench press take 5 mins. to practice progressions or warm-up your MU's or dips
10 RFT: Muscle-ups, Handstand Push-ups and Kettlebell Swings
10 rounds for time of:
2 Muscle-ups
4 Handstand Push-ups
8 Kettlebell Swings (70#/53#)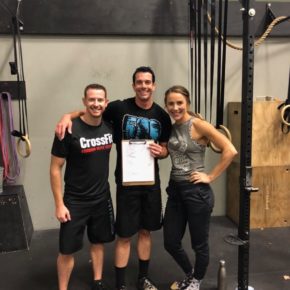 Photo by @robcwilson
Congrats to Mike M. for passing the Advanced RX Skills test tonight! After a whole bunch of hard work, practice and prep he cruised through it.
Considering dropping in to another CrossFit affiliate?  Read on and don't be a jerk!
The Wrong Kind of Jerk
now in the CrossFit Journal