5 Rounds for time:
6 Sumo Deadlift High Pull (95#/65#)
6 Burpees
6 Front Squat (95#/65#)
6 Kettlebell Swings (53#/35#)
6 Hang Power Snatch (95#/65#)
Results
Jason gutting it out: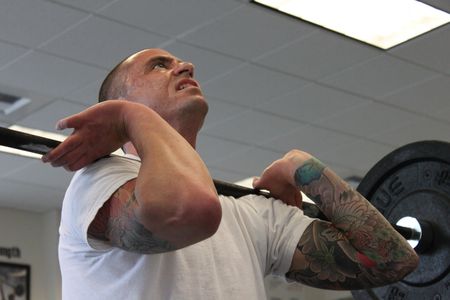 Burpees done right:
This WOD came from Jogo Gym (CrossFit Bellingham) and was one workout that was used in their throw-down last year for local athletes who were prepping for the 2009 CF Games Regionals. I remember later trying it along with Michelle and it literally floored us. So this year we figured in the spirit of the Games we would bring it out. Speaking of the Games, we are officially in the next phase of the road to the CrossFit Games. All of the Sectionals are now complete worldwide and the next step is the Regional Competitions where over 1350 men and women will battle it out to send 90 finalists to the CrossFit Games Finals in July to crown the "World's Fittest Man and Woman".
Read more about the next phase along with some interesting stats at "Congratulations Athletes" from the CrossFit Games site.
Now to give a huge high five to Rona for her 1st rope climb tonight after the WOD. She was feeling "Bionic" and climbed right up! The sky is literally the limit for you!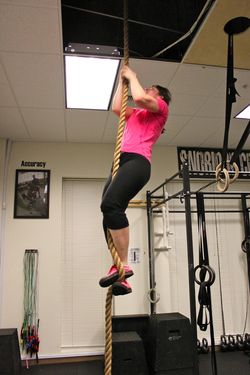 Notes:
Welcome back to Jeff who is back in the box after a little time off. Nice to have you in here and remember to take it one WOD at a time. 😉
This Thursday is "ladies night out" at Ana's. See Lorri, Michelle or Moe for more details if interested.
From CrossFit.com: "Trainers vs. Trainers" from the Second Annual Certification Staff Trainer Summit [wmv] [mov]