4 rounds for time of:
Overhead Walking Lunge With Plate, 100 ft (45#/25#)
30 Box Jumps (24″/20″)
20 Wall Balls (20#/14#)
10 Handstand Push Ups
"U.S. Navy Senior Chief Cryptologic Technician David Blake McLendon, 30, of Thomasville, Georgia, assigned to Naval Special Warfare Group 2 Support Activity in Norfolk, Virginia, was killed September 21, 2010, in a helicopter crash during combat operations in the Zabul province of Afghanistan. McLendon is survived by his wife Kate McLendon, his parents David and Mary-Ann McLendon, his brother Chris McLendon, and his sister Kelly Lockman." ~ crossfit.com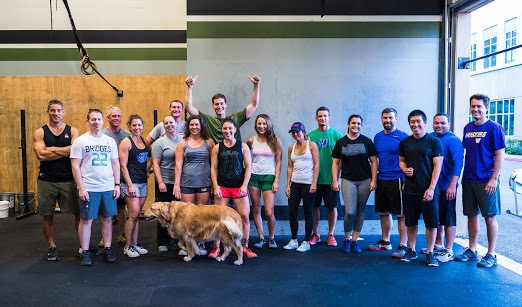 Thumbs up to Taylor and Amanda on achieving their 100th WOD this past week!  Also congrats to Brandon I. who hit his 100th tonight!
Photo by @robcwilson
SCHEDULE NOTE:
Tomorrow on Saturday the gym will be closed due to the service for Sam.
Sam's Celebration of Life Service will be held from 12pm to 2:30pm at the SVA Church in Fall City. Please join us to honor and remember Sam's impact on our community.
The family requests that in lieu of flowers or gifts, a donation be made to The Mountains to Sound Greenway Trust or given to the Saimo family for a donation to be made in his name.
I also will be working with Kelby on a memorial workout for all of us to come together in remembrance and celebration to be scheduled in September.