Michelle taking everything way too seriously as usual: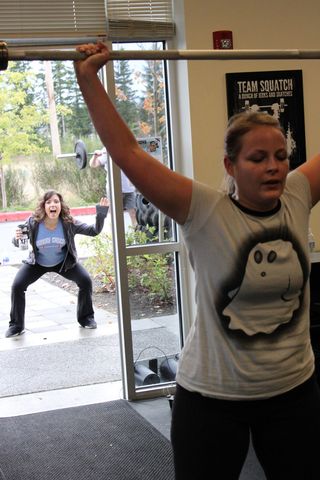 Frankenchipper this Saturday! Get those costumes ready!
Schedule Changes coming:
Starting November 1st, our schedule will make the following changes:
Monday through Thursday: 5pm and 6pm classes daily!
Tuesday and Thursday ONLY: 5pm, 6pm, and 7pm class
Wednesday: the 7:30am class will move to 8am

All other classes not mentioned above (Monday to Saturday) will stay the same
What does this mean? More training friendly choices for you! After talking to almost everyone and polling around the gym and seeing what class times fit best; we decided that the evening schedule of 5pm and 6pm classes daily Mon-Thurs made the most sense. Having two late 7pm classes during the week will still allow for those days where things are running late.  Wednesday 8am is a better fit for those who want to get in earlier. Monday and Wednesday the gym will close after the 6pm class to allow your coaches some time off. We will reserve those two days for Elements scheduling.
Notes:
Today we participated in a Trainer's Nutrition Workshop with Whole9 at CrossFit Fort Vancouver. It was a great opportunity to gather in a small group with other trainers, CrossFitters, affiliate owners and Dallas and Melissa of Whole9 to discuss how we as your coaches help educate and prioritize the role nutrition and sleep plays in our health and overall fitness. Part roundtable discussion, role playing, education, and "case study" type of activities; this workshop helped us realize there are several ways we can bring more value to you as your coaches. Some of these ways include providing education, reviewing nutrition concepts, helping you set realistic goals, reviewing food logs, and generally helping fine tune what you eat to improve performance. Curious about what you can do to eat and rest properly to fuel overall good health? Reached a plateau? Want to take it to the next level or get ready for Sectionals? Just ask. Then get started. There's no time like the present.
Resources:
The Paleo Solution by Robb Wolf
SRCF, Adam – CF Fort Vancouver, Melissa and Dallas – Whole9: