Tabata Squat: Perform max reps of air squats for 8 consecutive intervals of: 20 seconds of work followed by 10 seconds of rest. 
The Tabata "Bottom to Bottom Squat" is a Tabata Squat but each rep begins at the bottom and ends at the bottom. The turn around at the top is immediate – no pause. The ten-second rest for each interval is also held at the bottom of the squat as opposed to the top. Interestingly, this squat, in contrast to the "normal" Tabata squat, motivates full hip extension. Also, the ten second rests don't seem as short with this protocol!
5 Minute Rest then Complete:
Max Effort 500m Row
4 minute Rest then Complete:
2 Minutes L Sit Hold – Count number of times you touch the ground
Results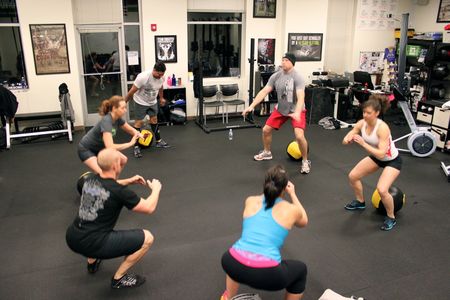 Quote of the Day: "I would curse at you right now but I don't have the energy." ~ Jorge to me after the WOD
Quote of the Day 2: "Ahhhhhhhhh! Owwwwww! Sh*t! My legs!" ~ randomly repeated class after class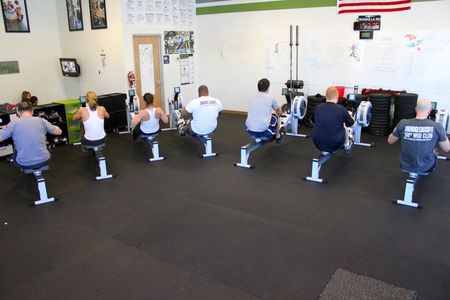 New Year's Eve WOD means time to ring in the New Year with some hard work and then some partying before the resolutions kick in. Get ready to kick off 2011 yet and set some goals that are specific and measurable and worth going after. Make plenty of small goals you will accomplish that will lead to a larger end goal. Think about focusing them on personal, family, career, nutrition and fitness for starters. 
Read: "The Whole9 Healthy/F-Off Scale, Version 2.0" then make your own scale.
Notes:
Squatch captured on film getting ready to hit his WOD. Or is it Curtis?