50/40/30/20/10 of each of the following for time:
Box Jumps (24″/20″)
AbMat Sit-ups
Results
"Box Jump Marc":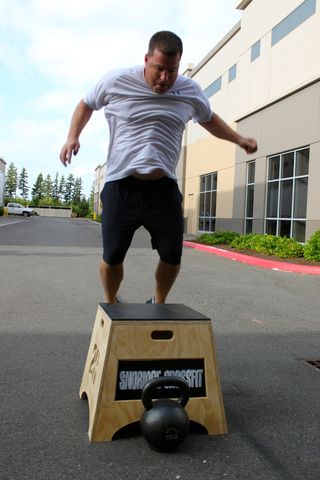 Luanne knocks out some AbMat Sit-ups: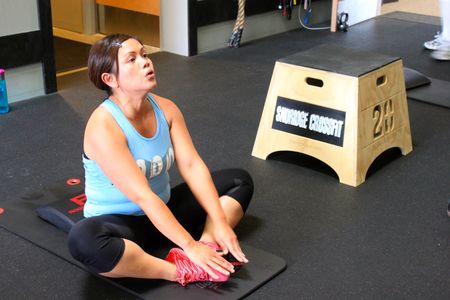 This Saturday is the 31Heroes Tribute WOD commemorating the heroes who were killed in Afghanistan on August 6, 2011. This workout is a fundraiser intended to help the families who lost loved ones just a few weeks ago. If you want to donate then please go to the site and register so that proceeds from the registration can help the families and childrens. The WOD on Saturday will begin at the normal class time at 0930 and run as long as needed for everyone. As the workout is intended to be a partner workout the "heats" will be able to be bigger groups of people (Please be patient if more than one heat is needed). If you have a partner before you come that is great, if not pair up when you get to the box. Consider this both the main class and advanced class. It will be scalable as always (weight, ropes, boxes, etc.)
Your Coaches Mark, Jeremy and Rona will be running the WOD as Michelle and I will be away in Sacramento, CA for the weekend. However both Michelle and I will be completing this WOD on Saturday morning at CrossFit Centurion (who is also going to program it for their box that day). So we will be with everyone in spirit and sweat from afar.
Notes:
Congrats to Teri who ran the Hood to Coast this past weekend! Also welcome to Lincoln, Ann, Chris, and Leslie who all started Elements this week.
Outdoor in the "Elements":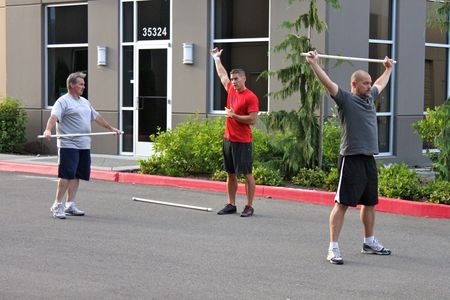 "Touchdown for CrossFit" with Matt Chan and Knowshon Moreno,CrossFit Journal preview video [wmv] [mov]
Jumping Pull-up by Ashley:
Start beneath the bar with arms extended
Bend the knees and "swing through"
Maintain an active shoulder
Swing back and jump while pulling your chin over the bar
Return to the start position