Main Class:
Teams of 2 complete 5 rounds each for time:
250m Row 
15 Kettlebell Swings (53#/35#)
20 Box Jumps (24″/20″)
25 AbMat Sit-ups
* Partner 2 cannot move on to the next exercise until Partner 1 in front of you rotates. When both athletes complete the 5th round time is complete.
Advanced RX Class:
As Many Rounds As Possible in 12 Minutes of:
3 Handstand Push-ups
7 Kettlebell Swings (53#/35#)
10 Calorie Row
Results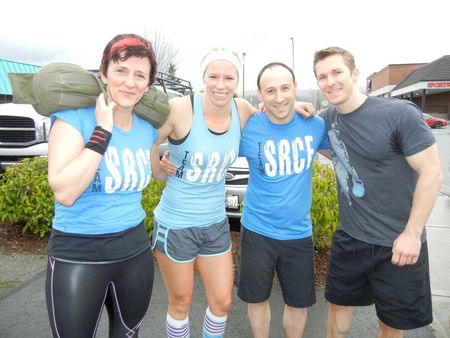 Today Team SRCF competed in the first event of the Box League NW along with 4 other local area gyms. This inaugural event was hosted both at CF Gravity Janes and also Maple Valley CrossFit. The league was created by Gravity Janes and it's intent is to kick off this August through December with a monthly throwdown that rotates teams on a schedule similar to your typical sports league. There are 8-10 gyms planning to participate and this event helped work out the details. 
Six of our athletes competed and made us proud today. For some it was their first CrossFit competition. Some had several competitions to draw on for experience. All of them bonded, strategized, pushed each other and became a team. Here is a recap from Rob of today's event.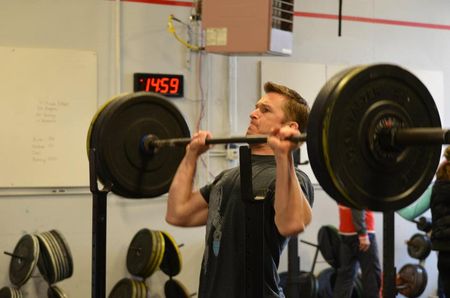 "Today was the inaugural Box League event and team SRCF put their best foot forward. I was proud to captain a great team comprised of Meghann, Lucy, Deb, Josh, Spencer, and myself. For those of you that need a quick refresher, the Box League is monthly throwdown between a bunch of local boxes. It is an opportunity to hang out with some fellow CrossFitters, get your WOD on, and then maybe hang out after and get a chance to meet more of the community. This morning the team took on Gravity Jane's and Cascade CrossFit in three WOD's. 
The first was a 6 minute AMRAP consisting of 30 DU's, 20 KB swings, and 10 paralette burpees. Josh, Lucy, Deb, and I put out a valiant effort and took 2nd place. The second WOD was a strength WOD were you had 10 mins to find your shoulder press 1 rep max and 10 mins to find your 1 rep max deadlift. Spencer, Josh, Meghann, and Deb took this one on and all had PR's in both lifts; pretty badass. Even though a spectacular effort was made, we came in 3rd place on this one. Then came WOD 3, the chipper. It started with a 1 mile run where one guy and one girl would run 800 meters with a sand bag (70lbs/30lbs) and then hand off to their partner to run 800 meters. Once all 4 team members completed the run the team had to complete 200 AbMat situps, 200 thrusters (95lbs/65lbs), 200 pull ups, and finish with a 2k row. Lucy, Meghann, Spencer, and I did this one and took 1st place.
Overall this was a great event. Amy, Shannon, Lindsay, and Derek all judged today and we are very grateful that they did. We also had a good sized group of people from SRCF come and watch, too many to list, but we appreciated having a great cheering section. The vibe of the competition was good and everyone was just excited to be out there WODing with other people that enjoy the sport. There were also two other boxes, Maple Valley CrossFit and King CrossFit that competed in Maple Valley today, so it will be interesting to see how things shake out once we get their results. However it shakes out, today I saw a ton of heart, some first time competitors, lots of PR's, a strong community, and felt the crazy amount of energy and emotion our people give out when they are cheering on one of their SRCF family."