Push Press
3/3/3
Work up to your 3 Rep Max
Immediately after complete AMRAP (As Many Rounds As Possible) in 15 minutes of:
12 Push Press (75#/55#)
10 Box Jumps (24″/20″)
Results
Day 7 of the Burpee Challenge! Don't fall behind early!
Post WOD ritual: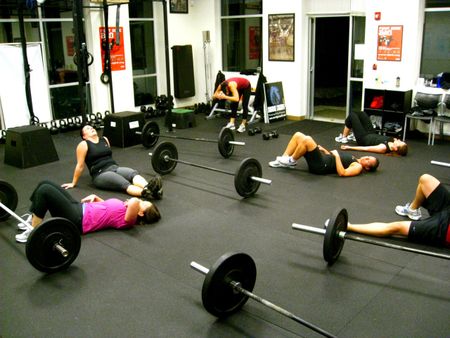 Strength WOD's are done upfront specifically to address lifting technique and form while getting stronger and working towards a max load for a set number of repetitions. These are intended for you to measure your strength relative to your ability. You are simply strong enough to do it correctly or you are not. It does not matter what someone else can or cannot do. It only matters what you can do. While you may be great at deadlifts you could suck at the press. Heavy overhead squats could be easy while heavy back squats are a struggle. Use these WOD's to refine your lifting technique and to learn and push through your limitations safely. That way you are prepared to grip it and rip it when we yell "3-2-1 Go!".
Tips for the push press:
Vertical dip (1/4 squat), bend the knees, imagine your butt and back sliding up and down a wall.
Chest stays up and does not dip forward.
Explode up and pop the hips open and initiate the press.
Push the head through as the bar passes the forehead to finish directly overhead (not out front).
Finish overhead in a line from the barbell straight down through the midline to the hip to the heels (like Mark below).
Here's some content on the Push Press:
Push Press Technique [wmv] [mov]
CrossFit Journal Article on Press, Push Press, Push Jerk