No it's not Christmas!  But this WOD is our gift to you.
For Time:
Run 400m
21 Box Jumps (24″/20″)
21 Kettlebell Swings (53#/35#)
Row 500m
15 Box Jumps
15 Kettlebell Swings 
Run 400m
9 Box Jumps
9 Kettlebell Swings 
Row 500m
Travis and Deb made up Dueling Thrusters from yesterday.  As a married couple the duel was appropriate and pretty much a draw for them.  The rest of you did today's WOD (including Michelle and I). It's interesting to see how there is a good split between those who like rowing and those who like running.  What's great is we ordered another rower so that means you will get to see more of the rowing soon to balance out the running.  This weekend the topics of the daily posts will cover rowing and double under tips.  Stay tuned.
Tom coaching Lyndi on the rower: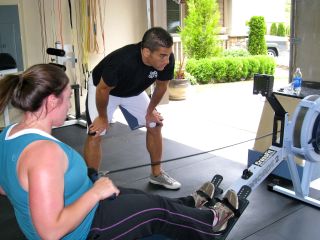 Sherry swinging away: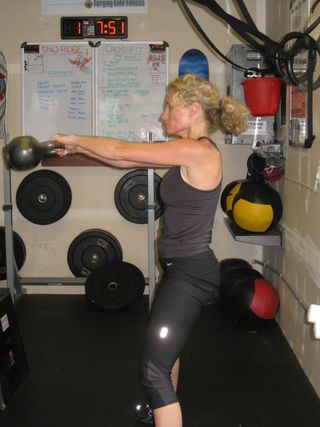 Notes:
Parking request: If you see the driveway is full please park around the corner of our cul-de-sac. We suggest parking on the street that is past the mailbox on the left with no houses built yet. It's the street that is directly at the 400m Run turnaround.  Then you can jog up as part of the warm-up!  This avoids stacking cars past our driveway which blocks emergency vehicles that may need to turn around in our cul-de-sac and allows us to be more respectful of our neighbors. Thanks for your understanding.