Strength WOD:
Clean (Squat)
5/5/5/5/5
Immediately After Complete:
"Brenton"
5 Rounds for Time of:
Bear Crawl 100 Feet 
Standing Broad Jump 100 Feet (Complete 3 Burpees after every 5 Broad Jumps)
* (20 lb./10lb.) Vest Optional
Results
View this photo
View this photo
"Brenton" – Sangeeta, Nan, and Kristy with vests: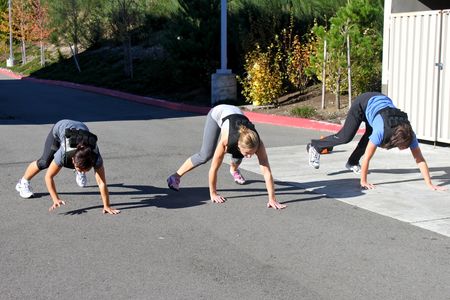 Field Training Officer Timothy Brenton, 39, of the Seattle Police Department, was shot and killed while on duty on Oct. 31, 2009 in a drive-by shooting. He is survived by his wife, son and daughter.
Our own Greg knew "Lumpy" and tonight pushed through this tough WOD in the dark to honor a fellow officer from the Seattle PD. We previously honored Lumpy back in May before this official CF Hero WOD was created.
WOD Demo with CrossFit Santa Cruz [wmv] [mov]