5 rounds for time:
10 Burpees
20 Kettlebell Swings (53#/35#)
30 AbMat Sit-ups
100 ft. Standing Broad Jump
Results
View this photo
View this photo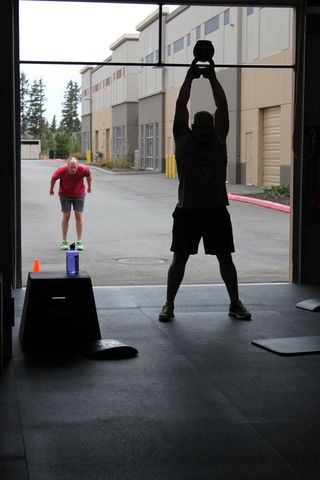 This WOD is a grinder. In the late afternoon classes I heard from over a half a dozen people just how much of a grinder this one was. It was inspiring watching everyone push and cheer each other on to the finish. The same thing happened afterwards with a few of you who hit up 11.6 for the Open. Soldiering on through a suckfest breeds character. It also puts shorter workouts in perspective. Remember: Constantly varied, functional movement at high intensity over broad time and modal domains. Fist bumps to all of you!
Reminder!
CF Kids will start at 10am tomorrow. 
Normal Saturday WOD time at 0930. 
We will start at 10am for CF Kids (due to the SRELC Art Show) and for any of the CF Kids parents; you can hit the WOD at 10am in a second wave.
11am we will begin waves of athletes for the Open WOD 11.6
Coach Greg Glassman on the 2011 Reebok CrossFit Games Open – video [wmv] [mov]
Read: Rowing/CF Endurance Article and Rowing Technique Guide in Competitor Magazine
Look inside >

HAIL THE RISE OF ROWING